Ryanair envisions taking delivery of 30 Boeing 737 Max jets before the peak of summer 2021, but is expecting to face heavy losses over the upcoming winter season.
It is not prepared to forecast full-year performance but states that it is expecting "higher losses" over the second half to 31 March 2021, as it plans for a 60% cut in winter capacity compared with last year.
Ryanair turned in net losses of €410 million ($477 million) for the first half, which included a €214 million exceptional charge on hedges arising from a reduced winter forecast and "ongoing aircraft delivery delays".
The airline says it is holding discussions with aircraft suppliers to "amend pricing" to "reflect the new…reality", without elaborating.
Ryanair says Boeing is looking to return the 737 Max 8 to service in the fourth quarter, and the airline says this will "hopefully" allow it to accept its first Max 200 – its specially-configured version of the twinjet – in early 2021.
It says it expects to take delivery of around 30 Max jets before the peak of next summer.
The initial deliveries to Ryanair are already more than 18 months behind schedule, and the company says that – while it received "supplier reimbursements" in the second quarter – compensation discussions with Boeing "will not be finalised or concluded" until the Max returns to service and a revised delivery schedule is agreed.
But the carrier insists it remains "committed" to the aircraft which, it says, will enable it to increase passenger numbers to 200 million over the next five or six years.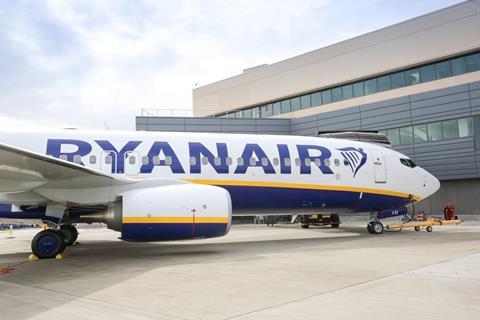 Ryanair says the 2020-21 fiscal period will continue to be a "hugely challenging" financial year. While it predicts carrying 38 million passengers, this figure could be revised down further if additional "unco-ordinated" travel restrictions or lockdowns are imposed over the winter.
Over the first half, it states, "substantial work" has been carried out to improve the company's efficiency, with pay cuts agreed with staff, better terms negotiated with maintenance providers and leasing companies, and the Austrian Lauda operation "completely restructured".