Budget carrier Ryanair expects its fleet to be short of up to 10 Boeing 737 Max 8-200s for the peak summer schedule, owing to the disruption in deliveries of the type from the US airframer.
The airline had previously indicated that it expected short-term capacity shortfall, as it disclosed its intention to order up to 300 737 Max 10s earlier this month.
It says its Max fleet will fall short for June and July.
"To facilitate Boeing, and to assist their resumption of scheduled [Max] deliveries this autumn, we will take delivery of aircraft through July, and possibly into August," says group chief executive Michael O'Leary.
"We hope and expect that Boeing will recover quickly from this recent delay to minimise its impact on our [2023-24] traffic growth and profitability."
It received 98 Max 8-200s over the course of the full year 2022-23, which ended on 31 March, taking its overall fleet to 537 aircraft.
Ryanair has another 110 Max 8-200s on order, deliveries of which are due to end in late December 2024, and O'Leary says these offer a "growth premium" to the airline over upcoming summer seasons because capacity in Europe is likely to be constrained for "at least four more years" by large aircraft delivery backlogs.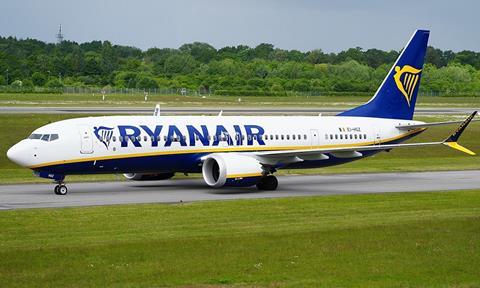 Ryanair turned in a net profit of €1.43 billion ($1.55 billion) for the full year 2022-23, and kept fourth-quarter losses – over the winter period – to €154 million.
The airline attributes the performance to a "strong" traffic recovery, higher fares, and "advantageous" fuel hedging.
Revenues reached €10.8 billion as passenger numbers increased to 168.6 million with average load factor rising to 93%.
Ryanair is aiming for a 10% rise in passengers to 185 million for 2023-24. But it says the delays to Max 8-200 deliveries could push some of the growth into the "lower-yielding" second half.
It expects fuel expenditure to increase by more than €1 billion this year, and adds that pay restoration, higher crew ratios, and other costs will "not be fully offset" by Max 8-200 deliveries in the first half – although summer demand is "robust" and peak fares are ahead of last year's levels.
While Ryanair has almost 15% of fuel requirement unhedged, and aircraft delivery schedules remain uncertain, O'Leary says he is "cautiously optimistic" that full-year revenues will increase sufficiently to cover the fuel bill and still enable the carrier to generate a "modest" improvement in profit.