Ryanair chief Michael O'Leary insists the airline is still interested in recruiting UK-licensed cockpit crews, although he suggests the value of a UK licence has deteriorated in the wake of the UK's withdrawal from the European Union.
UK cockpit union BALPA recently urged the government to restore mutual recognition of pilot licences between the UK and EU, a status ended by the post-Brexit withdrawal agreement.
Ryanair operating subsidiary Lauda Europe recently sought crews for a UK base but required European Union Aviation Safety Agency licences.
O'Leary points out that the carrier still needs to hire UK-licensed pilots to operate non-EU routes from its UK bases, and adds that the company is also "growing" the Ryanair UK division it set up to cope with Brexit disruption.
"UK licences are not that valuable," he said during a briefing on 31 August at which Ryanair unveiled a winter route expansion from London's Luton and Stansted airports.
"But, frankly, we don't care whether [pilots have a] UK licence or EU licence, we can operate with both. What we want is well-trained, hard-working pilots and cabin crew."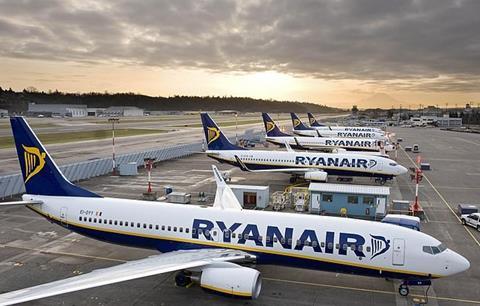 He sardonically refers to Brexit as having been a "stunning success", highlighting strains in various supply chains, and adds that the UK's separation from EASA could conceivably pose operational difficulties.
"We fear a kind of divergence between [UK Civil Aviation Authority] regulations on pilots and cabin crew training and EU regulations on pilot and cabin crew training," he says.
O'Leary claims the airline has been able to recover quickly by retaining pilots and cabin crew, on reduced pay, and allowing them to stay current.
But the carrier is expanding its fleet with the introduction of Boeing 737 Max 8-200 jets, and he states: "There's a bit of a training mountain for us to climb this winter. We need to train a lot of people to crew 55 aircraft next summer."
He says about 450 pilot cadets are passing through training bases, but adds that the airline's application list for qualified 737 pilots "must be nearing two or three thousand".
"There's a lot of pilots out there," he says, highlighting the number of cockpit crew shed by crisis-driven job cuts. "There's a lot of cabin crew out there – less so in the UK but we're a relatively high-paying employer in the UK on the cabin crew side, so we're not seeing any great difficulty."