Russian operator S7 Group is to establish a new low-cost carrier which will commence operations in summer next year.
S7 Group says the airline division will exclusively operate Airbus A320neos, four of which are already due to be transferred to the carrier under a preliminary deal.
It will serve inter-regional routes, primarily focused on central Russia., using a "classic" low-cost airline model. Ticket sales will commence in spring 2022.
"Creation of a new airline is a logical step for us," says Tatyana Fileva, one of S7's shareholders.
"We see great potential in the inter-regional transportation segment, which we cannot cover within the current S7 Airlines business model."
Over the first three years of operation the new carrier will increase its fleet by six to eight aircraft and S7 expects it to have more than 20 by 2024. It has not identified the source of the jets.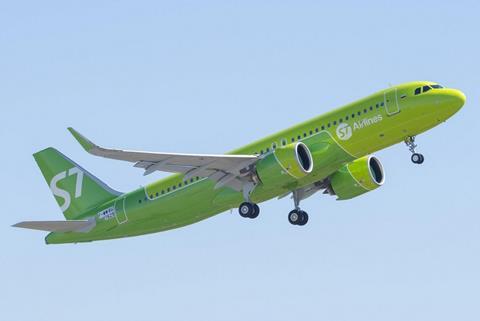 "Low-cost transportation is still concentrated mainly in Moscow and St Petersburg," says Fileva.
She says the Russian government has a strategy to improve regional access and raise population mobility, and has highlighted the need for another budget airline to serve the central zones.
Russian transport minister Vitaly Saveliev, formerly the head of Aeroflot, says a new carrier will help satisfy the demand for low-cost flights in the country.
S7 expects the carrier – still unnamed – to transport around 1 million passengers in its first year and reach 6-7 million from 2024.
It has yet to disclose details of the route network and base airports, as well as finalise a fare structure, but S7 is putting together a core group of staff to run the new airline.