South African Airways' business rescue practitioners spent R9.9 billion ($532 million) in the five months after they were called upon to try to save the loss-making airline.
Testifying by video link to a parliamentary committee on 15 May, practitioner Siviwe Dongwana stated that the sum was used between 5 December last year – when the airline was placed in business rescue – and the end of April 2020.
The expenditure included 16% on salaries and 20% on fuel Dongwana said, with other costs including 12% on aircraft leasing and 12% in payments to regional operator Airlink for flights.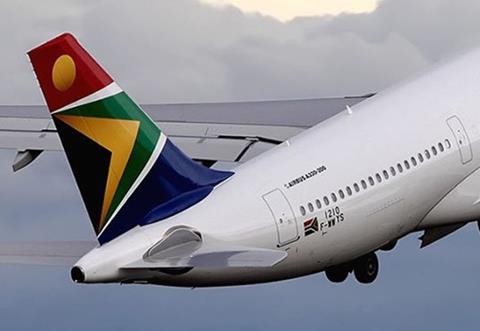 Department of public enterprises minister Pravin Gordhan also laid out to the committee the huge expense allocated to SAA since its 2003-04 financial year, putting the figure at over R31.2 billion in cash injections plus R19.1 billion in guarantees.
He said that a draft business rescue plan had been given to the department on 5 May, but added that – after consultation with advisers – it was "found to be extremely deficient".
Gordhan's relationship with the rescue practitioners has been fractious and the department has sought co-operation from SAA's eight recognised unions, as well as aviation specialists, to draw up the framework of an airline which could operate under the constraints of a post-coronavirus environment.
"In the last week or so [the unions] have made an important contribution to the rescue process and emergence of an alternative [airline] by undertaking a salary sacrifice which hadn't been done for five months," Gordhan stated.
"[We're] currently working with them on a social plan for those people who will not be accommodated."
He told the committee that the department had received offers to purchase SAA assets. "But at this point in time we don't know how to differentiate between what is genuine and what isn't," he said.
SAA business rescue practitioner Les Matuson, in remarks to the committee, appeared keen to avoid friction, crediting Gordhan with having a "consistent" vision, throughout the process, of creating a new and sustainable operation, despite the difficulties.
Matuson also explained why he was reluctant to pursue a liquidation of SAA, after warning that it was one of two bleak options – the other being a wind-down – after the government refused to fund the rescue further.
"The liquidation process is a very, very destructive one," he said. "Liquidation generally just sows chaos."
He says liquidation would take two or three years and would probably result in the loss of air operator's certificates, slots and licences, with a limited return.
"In liquidation the whole staff complement would be unemployed. It's got a lot of implications," Matuson added.
"There's not a question of doubt in my mind that a liquidation process would materially erode value and net recoveries for creditors could be an absolute disaster. We would not recommend liquidation in a hurry to anybody."