Scandinavian operator SAS is intending to enter a sale-and-leaseback agreement covering a pair of Airbus A320neo twinjets.
The airline is under US Chapter 11 protection as it implements a restructuring process, known as 'SAS Forward', of which the fleet re-organisation is a key part.
It has set out details of the agreement with Irish lessor AerDragon Aviation Partners in court filings.
The sale-and-leaseback covers a pair of new A320neos, serial numbers 11885 and 12028, each powered by CFM International Leap-1A engines.
SAS states in the filing that it sought out 40 prospective lessors with a request for proposals relating to the A320neos, and received 18 offers.
"The terms of these offers were generally competitive and provided an indication of the market's view of the strength of the 'SAS Forward' plan," it adds.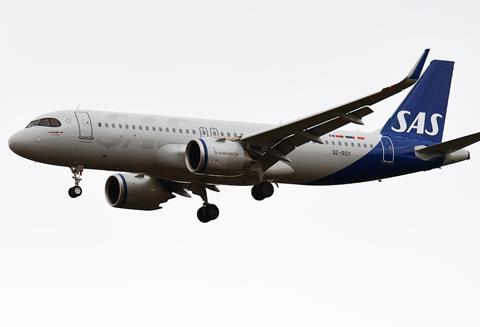 SAS says the agreements will provide additional liquidity, although the precise figures remain confidential, while the delivery dates of the jets have not been disclosed.
The airline has also recently opted to retain an Airbus A330-300 – serial number 1660 – having previously included the twinjet in a group of aircraft it planned to shed during the fleet restructuring.
SAS states in a separate filing, referring to the Rolls-Royce Trent 700-powered jet, that it has "since experienced a business need for additional widebody aircraft" in the carrier's fleet.
It adds that it has negotiated "improved economic terms" for the A330's lease. The filing identifies the leasing vehicle as Cavic 31 Designated Activity Company.