SAS chief executive Anko van der Werff insists the pilot strike affecting the company did not directly trigger its US Chapter 11 filing, but has accelerated the decision to seek court protection.
The board made the decision on 5 July to proceed with the filing, the day after SAS pilots commenced industrial action having failed to reach agreement over cost-saving measures relating to the 'SAS Forward' transformation programme.
Speaking during a briefing shortly after SAS disclosed the measure, van der Werff insisted the company had been "very transparent" with its view that, if progress on the 'SAS Forward' plan was slow, then it could "end up in court".
"The strike accelerates that," he says.
Van der Werff says that the company had been "open" about the possibility of using a court-supervised process if it could not resolve issues such as fleet restructuring with lessors.
Any suggestion that the Chapter 11 filing is a direct response to union pressure is "absolutely untrue", he states, but adds that a strike is the "last thing" that SAS needs.
"Management have to protect the company," says van der Werff.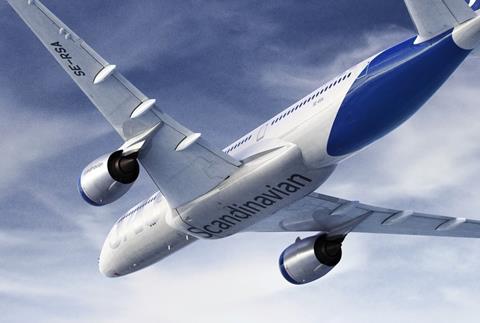 He reiterates that SAS needs a comprehensive overhaul in order to attract investors willing to put SKr9.5 billion ($915 million) into the company – particularly given that neither the Swedish nor Norwegian governments intend to contribute, and the Danish government will only participate conditionally.
Van der Werff says the Chapter 11 filing does not amount to a "bad bankruptcy" and the US process offers advantages and flexibility for the carrier's operations – such as allowing the aircraft to stay with the airline – compared with filing in other jurisdictions.
SAS chair Carsten Dilling says the 'SAS Forward' scheme is the "right plan" for the full-scale transformation of the company's business.
"We simply need to do much more and do it much faster," he says.
Dilling says the board considered various options but settled on US Chapter 11 filing as the "best way" to achieve its objectives. He says Chapter 11 is a "very well-established framework" for financial restructuring, and the possibility of a filing had been "part of the preparation" since the 'SAS Forward' plan was drawn up.
He says the strike has put "pressure" on the company's liquidity forecast, and brought the Chapter 11 milestone "forward" but he is unable to estimate when the filing might have been necessary if the strike had not gone ahead.
"We didn't initiate a strike, we've been willing to sit at the table and find solutions," he says, adding that the company is willing to work either collectively with the various pilot unions, or bilaterally – "country by country" – if it will achieve results.