SAS is losing another senior executive in the space of two weeks, with the decision by chief commercial officer Karl Sandlund to step down.
He is set to leave SAS by the beginning of October. His resignation comes two weeks after that of chief financial officer Magnus Ornberg.
Sandlund has had a long career with the Scandinavian operator, joining the company 18 years ago from consultancy firm McKinsey.
He served in several managerial posts, largely addressing strategic issues, and was appointed in 2014 as executive vice-president and chief strategy officer.
Sandlund led a newly-created division in SAS, focused on strategic initiatives.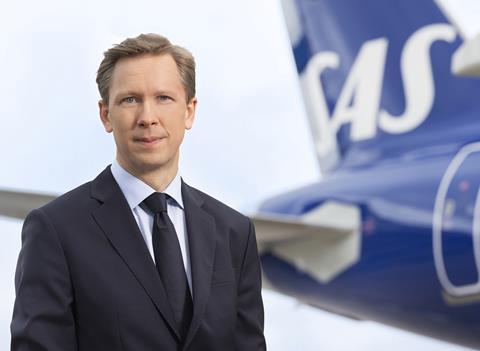 As chief commercial officer, he temporarily took over SAS as acting chief executive as the airline transitioned between the leadership of Rickard Gustafson and Anko van der Werff last year.
Sandlund is leaving to take up an "irresistible opportunity" in new position outside the company, as chief operating officer of AcadeMedia – an organisation that specialises in the Scandinavian education sector.
Van der Werff credits him with having been a "key player" in various parts of the company. SAS will start the process to recruit a successor.