SAS is aiming to achieve 80% of pre-crisis capacity deployment during the summer season, although the airline has cut a large number of planned flights in order to ensure stability.
The Scandinavian operator says it is experiencing "positive" market development and "strong" ticket sales in the run-up to summer.
But the company warns that the effects of the pandemic "linger on" and the air transport industry has demonstrated in recent weeks that ramp-up of operations during the recovery is causing its own set of problems.
SAS has been increasing capacity in line with customer demand but it says there are "constraints" to traffic growth.
"We foresee challenges during summer relating to everything from airports and ground staffing to crew-training bottlenecks," says chief executive Anko van der Werff.
"We also see continued delayed aircraft deliveries."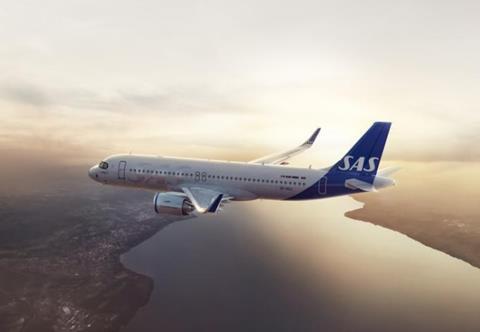 SAS says it is aiming to minimise the risk of disruption and "create more stability" through adjustments to the June-August period.
The company is cancelling 4,000 of its 75,000 planned flights for the summer season.
SAS says it maintains the view that ramp-up for the industry will continue over the course of 2022, but the upturn has been delayed, with uncertainty remaining owing to prevailing market conditions.
Over the second quarter – the three months to 30 April – the company generated SKr7 billion ($713 million) in revenues, although this was still more than 30% down on the equivalent pre-crisis period.
SAS turned in a pre-tax loss for the quarter of SKr1.56 billion.
"We have noted a substantial rise in demand for travel, but the airline industry is struggling to recover quickly enough to meet this positive trend," says the company.
"Predicting future demand is difficult for the entire industry, and flexibility will remain a key element moving forward."