Scandinavian operator SAS expects losses to persist through the full-year 2020-21, but insists its recapitalisation will prepare the airline for the winter season and the continuing disruption from the air transport crisis.
SAS chief executive Rickard Gustafson says the winter will be "tough" while the new fiscal year will be "challenging" and "most likely will be loss-making".
He expects "weak" operating cash-flow in the first quarter of 2020-21, as SAS copes with low demand and "accelerated" refunds, while "more normalised" levels of activity will not be reached until 2022.
"Even though we're encouraged by the recent progress related to the development and distribution of [coronavirus] vaccines, demand remains uncertain and makes it impossible to provide any guidance on the financial performance for the coming fiscal year," he adds.
SAS revealed its prognosis as it turned in a full-year pre-tax loss of SKr10.15 billion ($1.2 billion) including a loss of SKr3.27 billion for the fourth quarter to 31 October 2020.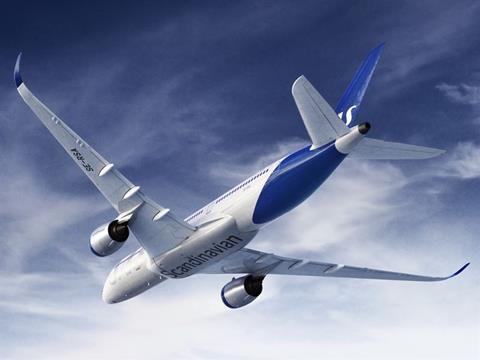 Over the final quarter SAS completed a recapitalisation that provided an additional SKr12 billion in liquidity. The governments of Sweden and Denmark hold equal stakes in the airline, each with 21.8%, the largest individual shareholders.
SAS says its pre-tax loss before exceptional items stood at SKr8.6 billion for the year. Exceptional items totalled SKr1.5 billion including just over SKr1 billion pertaining to impairment of Airbus A330, A340, A319 and Boeing 737 jets.
Gustafson says the pandemic has "changed the fundamentals" for the air transport industry, and that SAS has been "no exception" to the severe impact.
The company's fiscal year ended with deteriorating demand as – after a gradual improvement in summer – the airline's traffic suffered again during September-October following the re-introduction of travel restrictions.
Over the course of the fourth quarter the proportion of SAS's pre-crisis markets under such restrictions increased from 40% to 65%.
SAS says that, like many airlines, it has implemented cost-reduction initiatives to slash expenditure by 37% over the year, but this has not been able to overturn the 55% depletion of revenues to SKr20.5 billion.
The airline has agreed deferred delivery of 10 new Airbus jets, and has accelerated a phase-out of 21 older aircraft in its fleet – comprising five Airbus A340s, an A330 and 15 Boeing 737s.
"[This] will support liquidity through the sales of aircraft and engines, as well as reduce spend on maintenance and leasing," says Gustafson, adding that the programme will "better align" the fleet with projected demand.
SAS says it reduced capacity to "well below" 40% by the end of the full year, to cope with lower demand, and it negotiated new, flexible terms – including more variable costs – with regional operator partners during the fourth quarter.
It states that it has finalised a workforce reduction comprising 5,000 redundancies, and a new organisation reflecting the lower number of positions became fully operational at the beginning of November.