Scandinavian operator SAS has voluntarily filed for US Chapter 11 bankruptcy protection, as part of its efforts to push through a comprehensive restructuring of its business.
Through the court-supervised process it aims to reach agreements with its main stakeholders, restructure its debts and reconfigure its aircraft fleet. It expects the process to take nine to 12 months.
The company says its operations and schedule are unaffected by the filing with the US Bankruptcy Court of the Southern District of New York – although the carrier's flights nevertheless are subject to disruption from the pilot strike initiated on 4 July.
SAS had previously indicated, in May, that it could resort to court assistance to supervise and support the 'SAS Forward' transformation plan through which it aims to achieve extensive cost-savings and secure additional capital.
"The company expects to meet its future obligations in the short term," says SAS.
It had a cash balance of SKr7.8 billion ($755 million) at the end of June, and the company says it is in "advanced discussions" with potential lenders to obtain debtor-in-possession financing for up to $700 million, in order to support operations during the court-supervised process.
"The purpose of the [Chapter 11] filing is to accelerate SAS's transformation by implementing key elements of its 'SAS Forward' plan," the company adds.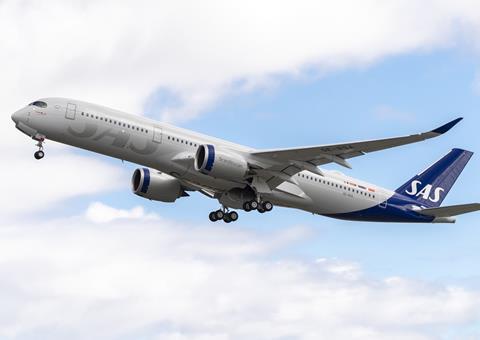 Chief executive Anko van der Werff says SAS has been "making progress" with the efforts to improve its cost structure, but "a lot of work remains".
He adds that the pilot strike "has made an already-challenging situation even tougher".
Filing for Chapter 11 protection, he says, will give SAS the "legal tools" to advance the transformation while continuing with its business.
"We will continue to build back the network connectivity, products and service our customers expect, and we will continue to do so throughout this process and beyond," says van der Werff.
"I am convinced that this process will enable us to become an even better airline for our customers and a stronger business partner in the years to come."
But he stresses that this requires burden-sharing from "all stakeholders", and is urging the airline's pilots to end their industrial action and "engage constructively".
SAS chair Carsten Dilling adds that the strike poses "significant challenges" to the company's ability to achieve the 'SAS Forward' transformation.
Under the restructuring SAS aims to achieve annual cost reductions of around SKr7.5 billion and raise at least SKr9.5 billion in new equity. It is also seeking to convert to equity, or otherwise reduce, over SKr20 billion in debt.
SAS says it has identified the "vast majority" of the planned annual cost reductions. It has also obtained support – to varying extents – from the Swedish, Danish and Norwegian governments.