Scandinavian carrier SAS is leasing a batch of Embraer 195 regional jets from Florida-based lessor Azorra Aviation.
SAS is undergoing a restructuring programme – known as 'SAS Forward' – while under US Chapter 11 bankruptcy protection.
Among the various aspects of this programme is an overhaul of the airline's fleet composition, with lease revisions and agreements having to be approved by the court.
Several filings refer to the lease of four E195s.
The filings identify the aircraft as having serial numbers 401, 425, 437 and 452 and reveal Azorra to be the lessor.
Two of the aircraft have already been brought into service with regional operator SAS Link.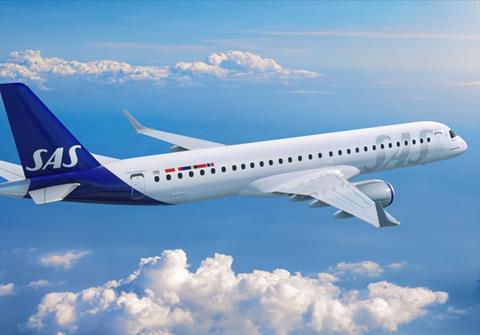 The details of the leases have been kept confidential, with the court filings referring to the "sensitive economic terms" and other information, such as maintenance and insurance requirements.
Disclosure of the information would put SAS and Azorra "at a disadvantage" in future leasing transactions, owing to the "highly competitive" nature of the leasing market, the filings add.
All four E195s were originally delivered new to Spanish carrier Air Europa.