Scandinavian carrier SAS is expecting full-year adjusted pre-tax losses of SKr8 billion ($720 million) for 2021-22, and a further SKr4-5 billion loss for 2022-23.
But it is forecasting a pre-tax profit the following year, 2023-24, and expects this to reach SKr3-4 billion in fiscal 2025-26.
SAS believes revenues will return to pre-pandemic levels in 2024-25 and reach SKr49 billion the year after.
The company, which is under US Chapter 11 protection, has disclosed the figures as part of an update to its 'SAS Forward' restructuring programme.
It expects to reach a pre-tax profit margin of around 6-8% by 2025-26, once this programme has been fully implemented.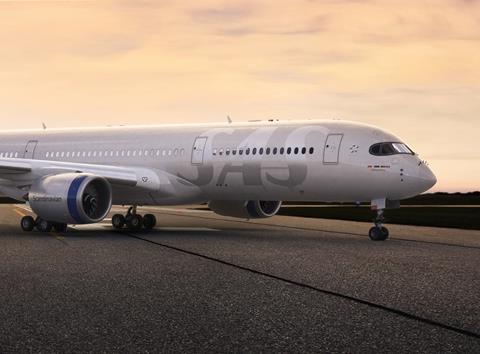 By the end of the current fiscal year, 31 October 2022, net debt will reach SKr36 billion and SKr20 billion in debt will be converted or reduced next year through the Chapter 11 process.
SAS says that, if the restructuring is completed successfully, it is aiming to be almost free of net debt by the end of 2025-26 and achieve a liquidity level of 25-30% at this point.
The airline believes short-haul leisure air travel demand will return to pre-pandemic levels in 2023-24, but that for short-haul business travel will "flatten out" at 80% of this threshold.
"Similarly, demand for longer-haul leisure air travel is expected to rebound more rapidly than long-haul business air travel," it adds.
SAS says it is reshaping its short-haul network and fleet to compete more effectively with low-cost carriers, adapting the mix towards the relatively higher leisure demand – increasing its focus on southern European holiday destinations.
"Joint venture solutions will be explored to enhance long-haul and connecting business travel in order to increase customer choices," it adds.