Scandinavia's SAS is evaluating fleet options to address lower demand on the company's network, and is closing in on a decision.
Speaking during a full-year briefing, chief executive Anko van der Werff said the company was assessing "what we can do, what we want to get" and was "nearing the end of our analysis".
SAS is looking at fleet options to deal with "thinner flows" of passengers while remaining competitive and offering an attractive schedule.
He stresses that new technology and fuel efficiency are essential considerations, and the choice must fit the company's network and the changing market.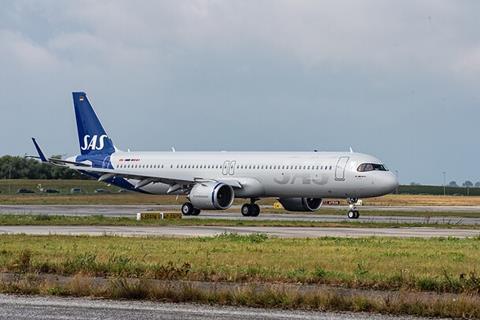 "Scandinavia is not a London, it's not a Germany," says van der Werff, adding that the company is striving for as much simplicity as it can reasonably achieve, particularly given the focus on its new SAS Connect and SAS Link platforms.
He declines to disclose details of companies with which negotiations are taking place, but says SAS aims to start "serious conversations very soon", with a view to reaching decisions in early 2022.
It is phasing out its Boeing 737 fleet. Eighteen 737s remain in service with SAS with another four undergoing withdrawal.
Van der Werff says the company will be "basically out of them, to all intents and purposes" by the end of 2022.
SAS has 35 Airbus A320neos, and a single A321LR, on order as well as two more A350s.