Negotiators attempting to avert a pilot strike at Scandinavia's SAS have obtained a three-day window to conduct further talks.
Cockpit crews had been scheduled to commence industrial action on 29 June.
But mediators have requested that the various sides in the dispute continue their talks for another 72h, and the parties have agreed.
SAS says it "welcomes" the decision to extend the deadline and states that its "firm ambition" is to avoid industrial action.
Swedish cockpit union Svensk Pilotforening, one of the organisations whose SAS pilots are represented by the transnational SAS Pilot Group, says the strike is "postponed" until midnight on 2 July unless an agreement is reached.
While it declines to discuss the details of the mediation, SAS Pilot Group chair Martin Lindgren says "many parts remain to be resolved".
"We feel a great responsibility towards both SAS and our members but, above all, towards our passengers, and take our task very seriously," he adds.
But he stresses that a strike can only be avoided if SAS "shows a real willingness".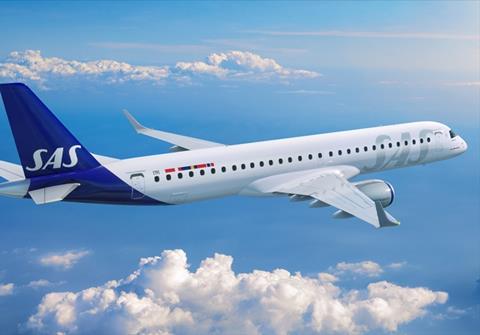 The airline is attempting to secure support for measures to slash its cost base under a restructuring and transformation programme called 'SAS Forward'.
SAS cut its pilot workforce during the pandemic and, as part of its recovery strategy, has set up new subsidiaries – SAS Connect and SAS Link – with operating models intended to bring down costs.
The SAS Pilot Group claims this involves replacing the axed pilots with new recruits on lower terms, through staffing agencies, while 450 former SAS pilots are still unemployed, and that the airline is demanding "unacceptable" cost reductions from the SAS pilots who remain.
"Routes and aircraft previously operated by SAS are now transferred into these [Connect and Link] companies, still painted in SAS colours," says the group.
Several letters from other cockpit unions worldwide, voicing support for the SAS pilots, state that just 40 of 100 Airbus single-aisle jets will remain with the Scandinavian carrier while the rest are placed with the subsidiaries. These letters claim that SAS will be further whittled back, and even left to "die out", unless pilots agree to a reduction in terms.
SAS Pilot Group says it has offered "significant" cost reductions in return for guarantees that all pilots are under the same collective agreements, but that this offer has been "rejected".
Lindgren argues that the SAS corporate structure is violating Scandinavian labour models, and says that – if the airline is able to "circumvent" agreements by setting up staffing agencies – other businesses will be able to do the same.
"For that reason, this struggle is important for all workers in Scandinavia," he says.