Scandinavian carrier SAS turned in a lower pre-tax loss of SKr3.8 billion ($350 million) for the first half of the year, including a SKr1.4 billion loss for the second quarter.
While pre-tax losses reduced, SAS's net loss for the three months to 30 April remained at SKr1.5 billion.
SAS raised capacity over the quarter by 27% but the overall capacity for the airline – which has been undergoing an extensive restructuring under US Chapter 11 proceedings – was more than 20% lower than the pre-crisis quarter in 2019.
But chief executive Anko van der Werff says the passenger demand for the second quarter showed a "positive evolution".
"We are pleased to see that the overall underlying demand for travel was healthy during the quarter, despite the economic uncertainties in society as a whole," he states.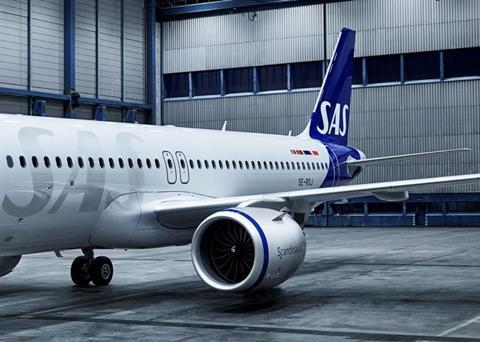 The airline has extended its network to feature 10 more routes for the summer and autumn period, on top of 20 unveiled in the first quarter.
SAS is expanding its intercontinental reach, having inaugurated new services to New York from Copenhagen, Gothenburg and Aalborg, and is restoring flights to Tokyo and Bangkok this year.
But van der Werff highlights that fuel prices and currency exchange rates "continue to bring strong headwinds for our business", contributing to the losses.
SAS's first-half net loss deepened slightly to SKr4.23 billion from the previous figure of SKr3.96 billion.