Scandinavian operator SAS has reached a bridge financing agreement for $700 million, as part of its restructuring programme, sourcing funds through Apollo Global Management.
The debtor-in-possession credit agreement – plus the company's own revenue streams – will be used to meet obligations as SAS continues its 'SAS Forward' re-organisation scheme under US Chapter 11 bankruptcy protection.
SAS expects to secure bankruptcy court approval for the funding by mid-September. This approval will release $350 million, half of the total funding, and the other half will become available once other conditions in the agreement are met.
The financing comprises a delayed draw term loan with nine-month maturity, extendible to 18 months in three-month stages.
SAS says the loan will be secured against various assets including slots at London Heathrow, aircraft and engines, and shares in certain entities including the company and its loyalty programme.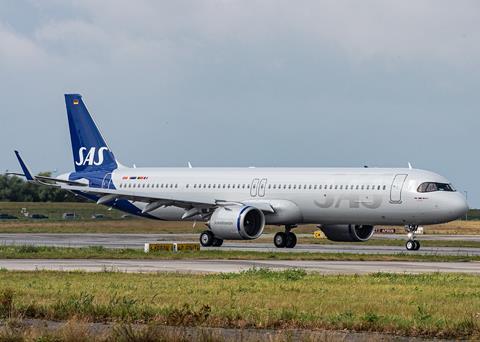 "With this financing, we will have a strong financial position to continue supporting our ongoing operations throughout our voluntary restructuring process," says SAS chair Carsten Dilling.
"With [Apollo's] substantial financing commitment, we can now focus entirely on accelerating the implementation our 'SAS Forward' plan."
SAS says it considers the Apollo debtor-in-possession proposal, which followed a competitive process, to be "on market terms".
The financing will support the company's operations during the Chapter 11 process, but SAS is looking to raise at least SKr9.5 billion ($930 million) in new equity once the restructuring slashes its cost base.
SAS says it intends to conduct a competitive capital-raising process, to secure the best available terms, in the first half of 2023.
Apollo partner Antoine Munfakh says the company "fully supports" the 'SAS Forward' plant and the aim to recapitalise the operator as it emerges from Chapter 11.
The financing firm could participate in this equity process if SAS believes it would be in the interests of the carrier and its creditors.
Apollo would be permitted to convert its debtor-in-possession loans into new equity in such circumstances.
It has agreed to negotiate with the Danish government terms under which the government would acquire up to $250 million of equity interest in SAS associated with Apollo's conversion of the loans.
SAS points out that any conversion of the debtor-in-possession financing commitment "may be insufficient" to meet its equity-raise objectives in full, and that it could seek to raise the additional equity necessary.
Denmark's government has already expressed interest in a potential participation in SAS's equity raise, and SAS says it "intends to work closely" with the government towards "accommodating such an investment interest".