Scandinavian operator SAS is seeking court authorisation to enter the new collective labour agreements it reached with pilots following cockpit crews' industrial action.
SAS filed for US Chapter 11 protection on 5 July, the day after a pilot strike started, and reached an agreement with four crew unions which ended the walkout 15 days later.
According to a 3 September court request, SAS had around 970 pilots who were union members at the time of the filing, and the strike resulted in cancellation of half the company's flights – with cumulative losses of about $165 million.
The agreement centred on increased schedule flexibility and closer alignment of pay scales to those of low-cost competitors, as well as capacity to enter wet-lease arrangements.
It also set out a restructuring support agreement which includes a $100 million package to settle ligitation claims by pilots that SAS had failed to re-hire terminated pilots for routes transferred to affiliate operators.
This agreement, in exchange, requires unions not to impede the Chapter 11 process, under which SAS is progressing with its 'SAS Forward' business re-organisation plan.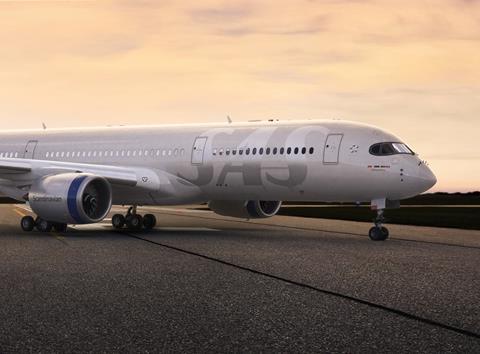 SAS says concessions from labour unions are a "crucial element" of this re-organisation, representing around 20% of the annual cost reductions envisioned.
The court request states that the new collective agreements are an "important achievement" in advancing the restructuring process.
It says the agreements not only resolved the strike but enable cost savings of around $200 million over the period to 2026, and that these are an "essential component" of 'SAS Forward' – not least because they provide access to proposed initial debtor-in-possession funding of $350 million.
Under the collective labour agreement and restructuring support agreement, it adds, the pilots have agreed to support – and vote in favour of – a Chapter 11 plan proposed by SAS.
"Were [SAS] not permitted to enter into and perform under the [new agreements], it is likely that litigation over the [pilot claims] would resume and the [unions and pilots] would likely go back on strike," the filing states.
"Having to defend such litigation and sustain a strike would strain the [SAS's] already limited resources and distract management."