SAS is seeking authorisation to continue with aircraft deliveries with a filing to a US bankruptcy court setting out justification for the acquisition.
The Scandinavian operator has been under US Chapter 11 bankruptcy protection since 5 July.
Airbus is due to deliver an A320neo – MSN10937 – to the carrier on 3 August.
SAS has a pre-delivery payment facility with Carlyle Aviation Management, and the carrier has been negotiating terms with Carlyle for acquire the aircraft.
The airline's legal representatives have laid out, in a filing to the court, the justification for proceeding with delivery of the A320neo, one of 10 linked to the Carlyle facility.
"[SAS has] determined to purchase all 10 aircraft subject to their [pre-delivery payment] facility with Carlyle," the filing says, adding that SAS believes it needs all 10 to fulfil its long-term fleet plan and "maximise [its] going concern value".
"Having evaluated their potential alternatives, [SAS has] concluded [it is] unable to acquire similar aircraft from other sources on more favourable terms," the filing states.
The benefits, it says, of making the $10.58 million delivery payment necessary to receive the "highly-desirable" aircraft "greatly exceed" the cost.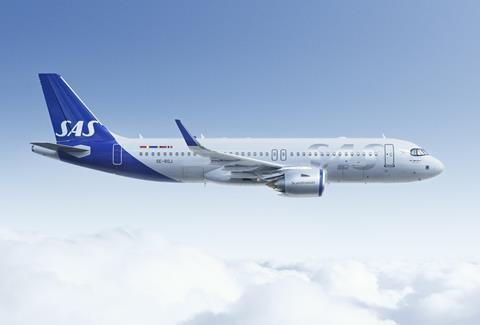 SAS intends to enter a sale-and-leaseback transaction for the A320neo agreed last year with Standard Chartered Bank.
The filing says SAS is intending to deploy the aircraft in August and use it to operate up to 50 flights weekly during the busy summer season – flights which would otherwise not take place, with a revenue impact from losing the aircraft amounting to as much as $5 million per week.
"Finding a suitable replacement aircraft may take between three to six months," it states, while SAS would also risk losing committed sale-and-leaseback financing from Standard Chartered.
At the point where SAS filed for Chapter 11 protection the operator had 100 aircraft, including 63 under operating lease, 15 under Japanese operating leases, 20 owned, and two which were loan-financed.
In order to emerge from the pandemic crisis as a viable business, says the filing, the company needs to "streamline and rationalise" its fleet, which includes accepting deliveries of new aircraft.