Scandinavian carrier SAS has identified Air France-KLM, and financial firms Castlelake and Lind Invest – along with the Danish government – as participants in the successful consortium to provide investment under the company's equity solicitation process.
SAS will eventually become a member of the SkyTeam alliance, leaving its position in Star Alliance – the group of which it was a founder.
The agreed investment amounts to $1.175 billion – comprising $475 million in new unlisted equity, as well as $700 million in secured convertible debt – plus $500 million in refinancing.
Castlelake will become the largest shareholder with around 32%, while the Danish government will have 26%, Air France-KLM will have just under 20% and Lind Invest takes about 9%. Castlelake will also have over 55% of the convertible debt, while the Danish state will have about 30%.
SAS says a number of creditors will hold the equity balance of about 13.6%.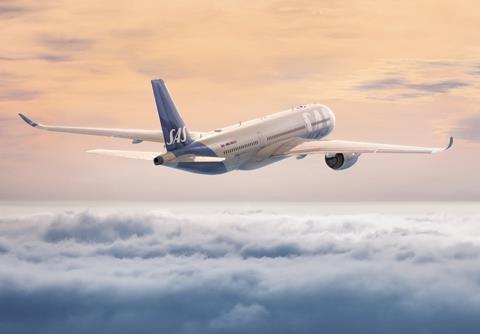 SAS has been undergoing restructuring, through its 'SAS Forward' programme, under US Chapter 11 bankruptcy protection. The equity solicitation had been a critical part of the restructuring.
Chairman Carsten Dilling, speaking during a briefing on 3 October, said the parent company SAS AB will undergo its own re-organisation in Sweden in 2024.
This will entail the probable delisting of SAS AB.
"No value is expected for existing shareholders in SAS AB and only a modest recovery is expected for the holders of commercial hybrid bonds," the company states.
Chief executive Anko van der Werff says that the airline will join SkyTeam "in due course" but says it will remain with Star "until further notice".
SAS AB will also seek a commercial co-operation with Air France-KLM Group and its airlines, with the intention of increasing connectivity.
Van der Werff adds that the agreement "sets out a clear path" for the company.
Documentation for the transaction structure has yet to be finalised, and it will need to be approved as part of the Chapter 11 process.
"Through the completion of this process and the opportunities presented by being part of SkyTeam, we will be able to further enhance SAS's offerings for the benefit of our colleagues, customers and communities," says van der Werff.