Scandinavian operator SAS has entered a formal investment agreement with a Castlelake and Air France-KLM consortium, and will replace its debtor-in-possession financing from Apollo with a new arrangement with Castlelake.
SAS is under US Chapter 11 bankruptcy protection and restructuring through implementation of its 'SAS Forward' programme.
As part of the restructuring it initiated an equity solicitation and disclosed on 3 October that it had selected the Castlelake consortium as its investment partner.
This provisional agreement has since been amended to increase the proposed $1.175 billion investment to a total of $1.2 billion.
"The investment is a key milestone in our 'SAS Forward' plan," says SAS chief Anko van der Werff. "It shows that our new investors believe in SAS and our potential to remain at the forefront of the airline industry for years to come."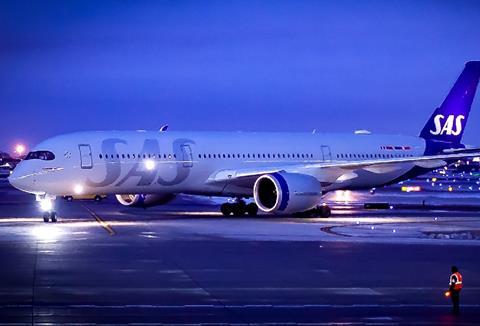 SAS had previously entered a $700 million debtor-in-possession arrangement with Apollo Global Management to support its re-organisation, and drew down the first $350 million tranche in September last year.
It subsequently deferred accessing the second $350 million tranche earlier this year, indicating that it had no near-term need for the additional liquidity.
SAS states that, following the consortium investment agreement, it will instead source $500 million of debtor-in-possession financing through consortium member Castlelake.
It says the credit agreement will increase liquidity and refinance the carrier's existing debtor-in-possession term loan, as well as support its exit from Chapter 11.
Terms of the Castlelake agreement are "substantially similar" to those covering the existing financing, it adds, but with some differences – including a lower interest rate and removal of certain fees.
The initial term of the financing is nine months, with two possible three-month extensions, and it will be repaid upon emergence from Chapter 11.
SAS says the investment agreement and new financing are subject to the approval of the US bankruptcy court, and that it will seek clearance "as soon as possible" in November.
Alongside Castlelake and Air France-KLM, the SAS investment consortium includes the Danish government and financing company Lind Invest.