Saudia has carried out the maiden flight to the new Red Sea international airport which forms part of a resort complex in the west of the kingdom.
The carrier operated an Airbus A320 (HZ-AS82) for the service, SV1571 from Riyadh, on 21 September.
Saudia had recently agreed to become the first airline to commence flights to the Red Sea facility, and its inaugural operation marks the beginning of a twice-weekly rotation.
The carrier says the partnership between Saudia and the airport's developer, Red Sea Global, is "distinguished" by a co-operation on sustainability.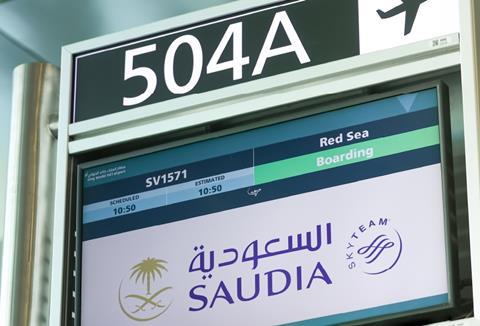 Red Sea Global group chief John Pagano adds that the first flight – along with bookings already received for the resort – means Saudi Arabia's position on the "tourism map" is "all but secured".
Irish firm DAA International is operating the new airport, services from which will extend to include international flights next year as the resort expands.