Middle Eastern carrier Saudia has formally reached an agreement to take CFM International Leap-1A engines for the Airbus A320neo-family fleet it ordered in 2019.
The airline ordered 30 A320neos and 35 A321neos after opting to scrap a previous agreement for the Boeing 737 Max.
But CFM builds the Leap-1B for the Max and Saudia has chosen to retain the engine manufacturer for the Airbus agreement.
Saudia is ordering 149 Leap-1A engines and the deal includes a multi-year, rate-per-flight-hour services pact. This also covers 20 leased A320neos in addition to the newly-ordered powerplants.
The agreement – valued at $8.5 billion at catalogue prices – was unveiled during the official visit on 4 December of French president Emmanuel Macron to Saudia Arabia.
Saudia is already a strong customer of CFM with 61 conventional A320s fitted with the CFM56 engine, while budget division Flyadeal has 11 CFM56-powered A320s as well as five Leap-powered A320neos.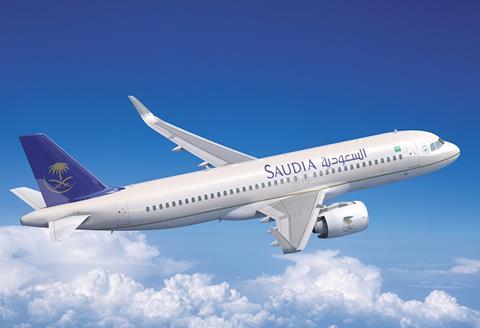 CFM says it will support Saudia Aerospace Engineering Industries to develop its own Leap-1A engine overhaul operation as part of the deal.
Saudia director general Ibrahim Al-Omar highlights the "reliability" and "best-in-class support" provided by CFM.
"We look forward to introducing further Leap engines into our fleet and we believe that this engine will be a real asset in terms of efficiency and cost-effectiveness," he adds.
CFM has also sealed a $4 billion Leap-1A service pact with Saudi Arabian carrier Flynas, covering 160 powerplants for the airline's expanding A320neo fleet.
Airbus lists Flynas as having 78 A320neos on order – of which 11 have been delivered – plus 10 A321neos. The carrier currently operates 20 A320neos in total as well as 17 A320s.
Parent NAS Holding Group chief Bander Al Mohanna says the Leap-1A has "performed remarkably well" in its fleet.