Saudi Arabian operator Saudia Group's chief says the airline is working to obtain "quick fixes" – though not necessarily permanent resolutions – to address the supply-chain impact on its fleet.
Speaking during a briefing at the Arab Air Carriers Organization conference in Riyadh, director general Ibrahim Al-Omar said the company was "facing real challenges today – not just about the new orders but with the existing fleet".
Al-Omar states that the airline already has to work to maintain on-time performance in a harsh environment.
He says the carrier is looking to keep more spare engines on the ground, and trying to deal with the situation through temporary measures.
"We are impacted, especially the new fleet," he says. While he did not elaborate on specific airframes or engines, he says "not all" types are affected.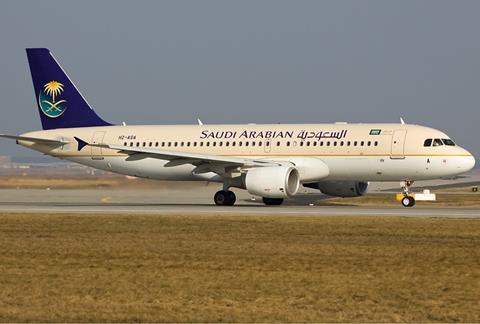 Saudia has been expanding its fleet as part of the government's broad Vision 2030 strategy to bring more passengers to the kingdom.
Al-Omar says he hopes, by 2024, that "most of the technical issues will be resolved", but admits that he believes the situation will persist until 2025.