Iraqi Airways has received a second Airbus A220-300 as the carrier continues to seek a lifting of a European prohibition on its flights.
The airline says the arrival of the jet (YI-ARF) in Baghdad continues the modernisation of its fleet and represents an "important step to enhancing the efficiency of 'green bird' flights to various destinations" – a reference to the Iraqi Airways logo.
Director general Abbas Al-Zubaidi says the addition of the A220 – with its two-class cabin – supports efforts to increase passenger space and comfort.
Iraq's transport ministry has been holding discussions this week with European Union representatives, which included talks on resolving the problems which have kept Iraqi Airways on the European Commission blacklist since December 2015.
The situation was the subject of a high-level meeting which took place in mid-December last year and included the Commission, the Iraqi civil aviation authority, Iraqi Airways and the European Union Aviation Safety Agency.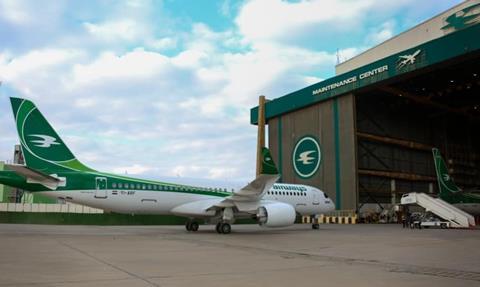 Less than a month before the Commission had confirmed that Iraqi Airways remained blacklisted.
Iraq's civil aviation authority had held a technical meeting with the Commission in June last year to update on actions taken to assist with lifting the ban on the airline, and provide information on progress with ICAO audits.
The authority indicated that all recommendations resulting from a 2017 technical assistance project had been implemented.
At the time the Commission also informed the authority that it "could consider" removing the ban on Iraqi Airways when it received sufficient information – including data obtained through an on-site assessment – that Iraq complied with ICAO certification and oversight standards, and Iraqi Airways demonstrated that reasons for EASA's rejection of third-country operator approval had been resolved.