Shell is on the brink of signing its first letters of intent (LOI) with leading network carriers paving the way for 10-year sustainable aviation fuel (SAF) supply deals, according to Jan Toschka, president of Shell Aviation, speaking exclusively to FlightGlobal.
Such long-term commitments are important to the energy giant as it prepares a huge ramp up in SAF procurement and production over the coming decade, he explains.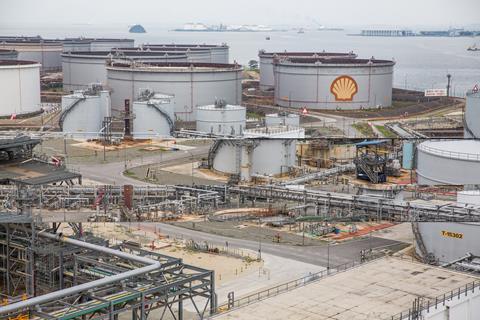 "We see large flagship carriers coming to us asking for 10-year [SAF supply] deals, knowing there is no established price marker. Knowing that there will be a lot of things to be defined and determined at a later stage," says Toschka.
"But the pure commitment that two people come together and say we will supply you with SAF in the spirit of partnership and we will find out the details later [is critical]. That is what is de-risking our investments, that is what gives us the confidence we are doing the right thing."
"We are about to sign those LOIs," adds Toschka. These would lead to long-term offtake contracts but at this stage would purely be volume commitments without prices attached at this stage. It is a structure commonplace in the fossil fuel business.
"If I am confident on the supply, I don't need to agree prices today because I know there will be a market price out there [when the fuel is supplied]," he explains. "It's almost irrelevant what the costs are as long as we have a level playing field, as long as we have mandates, or we have some sort of aligned incentive schemes.
"What is the alternative scenario? Parking the energy transition, coming back to it in 20 years' time?" asks Toschka. "It has to be a win-win. There is no point in signing a deal where one side wins the other side loses. We don't have the financially strongest business partners right now. It is in our best interests that it is very digestible what the future fuel costs are."
SAF PRODUCTION RAMP-UP PLAN
As Shell puts pen to paper on these 10-year offtakes, its short-term strategy is focused on securing increasing volumes of SAF bought from others and combining this with SAF manufactured at its own refineries as these come on-line, says Toschka.
"From today until 2025 we will rely on our purchased SAF. Come 2025 we will be having our own equity production coming from the Pernis site," he says. Its huge Pernis refinery in the Netherlands will make some 500,000 tonnes of SAF annually. Shell currently has deals with SAF producers World Energy and Neste and will broaden this having signed contracts with two other suppliers, still to be announced.
"For the next three years we will definitely be ramping up our procured [SAF] volume because we are seen as a channel to the market from those producers," says Toschka.
In 2025, Shell will begin shipping SAF from its Pernis plant, and in the 2026-2028 timeframe SAF plants in Singapore, Germany, and the USA will begin production, says Toschka.
Shell's 'asset transformation plan' will see refineries that make oil-based fuels being converted to produce sustainable fuels. In September, Shell announced it is building an 820,000 tonnes-a-year biofuels plant in Rotterdam, producing SAF and renewable diesel made from waste.
Toschka is confident that Shell will give the green light for a SAF production facility at the Shell Energy and Chemicals Park in Singapore towards the end of this year. The aim is to make 550,000 tonnes of low-carbon fuels a year, including SAF.
Last September Shell announced its ambition to produce around 2 million tonnes of SAF a year by 2025 globally, still the largest and most aggressive target among the oil majors to date. "We can't do small volumes. We can't do small investments, we need to do big," said Toschka.
The approval to produce SAF at its Energy and Chemicals Park Rheinland, in Germany, will most likely come in 2023, says Toschka. Shell will probably look at producing the second generation of SAFs there using Power-to-Liquid (PtL) technology. This technology has gained strong support in Europe and in particular Germany.
Shell is an investor in an Alcohol-to-Jet SAF plant in Sweden. This pathway is particularly interesting for the US market where the feedstock availability is strong, and the supply chain is less complex. Shell has other SAF projects with SkyNRG and LanzaJet.
Toschka says: "We can't just focus on HEFA production, although this is the one scalable right now and probably the one most affordable right now." HEFA, which stands for Hydroprocessed Esters and Fatty Acids, often comes in the form of used cooking oils.
"We need to think through what is coming in the second generation, what is coming after HEFA, what is more scalable in terms of feedstock and what is providing bigger, longer terms volume in the next 10-30 years. And that is clearly Alcohol-to-Jet (AtJ) and at a certain point it is PtL," says Toschka.
At the Singapore Airshow in February, Shell announced it had become the first supplier of blended SAF in Singapore having completed the upgrading of its facilities in the country to enable SAF blending. It has already begun supplying the first two customers - the Royal Singapore Air Force and SIA Engineering Company - with SAF sourced from Finnish SAF producer Neste.