Siberian operator KrasAvia has entered a provisional agreement to acquire 10 UZGA LMS-901 multi-purpose aircraft.
Deliveries of the Russian-built, single-engined high-wing type will commence in 2025 and run to 2029.
KrasAvia says it will become "one of the first customers" for the new aircraft in Russia as a result of the "preliminary" pact signed on 8 August.
The carrier says the aircraft has the capability of transforming the passenger cabin for cargo carriage, and future modifications will feature the option to fit landing skis.
General director Andrei Egorov says the LMS-901 will support the aim of scheduled passenger transport on socially-important routes within the vast Krasnoyarsk region, including those in Angara and Taimyr.
"We will use aircraft to fly to remote villages instead of helicopters," he says. "This will reduce the cost of transportation and increase the frequency of service."
The aircraft is designed for nine passengers or up to 2,000kg of freight.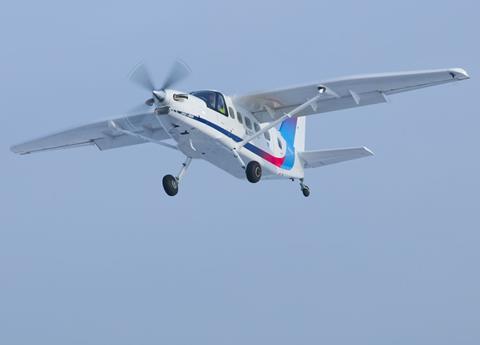 UZGA director of civil aviation programmes Oleg Bogomolov confirms the agreement with the "leading carrier in the region" and the first for the LMS-901 in the Siberian district.
Alongside passenger transport, the type is set to be used for air ambulance and forestry protection work, the company states, and development projects in the Krasnoyarsk region include creation of technical support, service and training centres.
KrasAvia has previously introduced ATR turboprops and has signed tentative agreements to take the modernised Ilyushin Il-114-300.