Siberian carrier Yakutia could introduce Tupolev Tu-214s as part of its fleet modernisation programme, under a governmental agreement.
The government of the Sakha republic has formally expressed interest – through an agreement at an international economic forum in St Petersburg – in acquiring the type for Yakutia.
Yakutia has indicated that it might need up to 12 Tu-214s by 2030, according to Russian state technology firm Rostec.
"Details and terms of the contract will be discussed by the parties," it adds.
Russia's government has flagged the Tu-214 – which is powered by Aviadvigate PS-90 engines – as a potential solution for airlines needing single-aisle capacity, in the wake of sanctions which have blocked access to foreign aircraft manufacturers.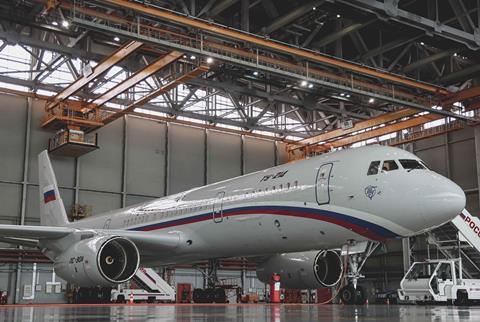 The Tu-214, manufactured in Kazan, is capable of transporting around 210 passengers.
According to Russian aerospace entity United Aircraft, annual production of the Tu-214 – currently limited to one or two specially-built government aircraft – is to be raised to 10 in 2025, with a view to increasing output eventually to 20.