Icelandair Group is bringing its regional carrier Air Iceland Connect under the single brand of the parent airline, in a bid to simplify its operations.
The integration will take effect from 16 March, says the company, with the international network of Icelandair being combined with domestic links and the regional services to Greenland.
Icelandair Group had already disclosed, a year ago, that it intended to integrate the two carriers' operations and their supporting sales, marketing, finance and other functions – a decision which also involved discontinuing the Air Iceland Connect managing director role.
As part of the integration all sales and marketing efforts are being unified under the Icelandair brand.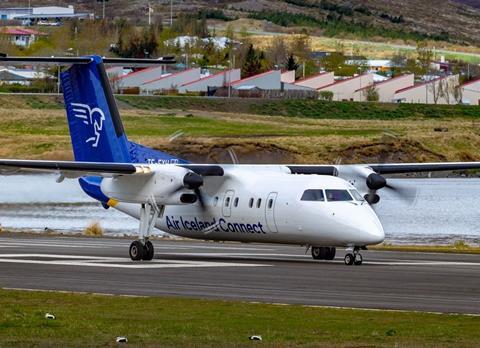 "This is a complex project that we will take in steps," says Icelandair Group chief Bogi Nils Bogason.
He says the company hopes that domestic services will become "more visible" in its reservations system and that European and North American passengers from its transatlantic bridge network will connect to domestic flights.
"With one strong brand, a simplified booking process and a unified distribution system, the integration allows Icelandair to focus on an improved and consistent customer experience across its entire route network," the company states.
While the two carriers' operating licences will remain separate their services will all operate under the 'FI' designator code of Icelandair. Icelandair says it is reviewing the product range available on the domestic flights.