Czech carrier Smartwings has conducted a Boeing 737 Max service to Antarctica, landing the aircraft at the Troll airfield on 26 January.
The airline says the Max 8 twinjet (OK-SWB) is the first from the re-engined family to arrive in Antarctica.
Troll station is sited on the edge of Antarctica closest to southern Africa. Operated by the Norwegian Polar Institute, it has a 3,000m runway located on a glacier at 1,232m altitude.
Smartwings says the aircraft departed Oslo, with a stop in the city of N'Djamena in Chad, before proceeding to Cape Town and then onwards to the polar region.
"The [runway] surface was specifically prepared, and braking action measured by Norwegian Polar Institute prior to operation," says the carrier.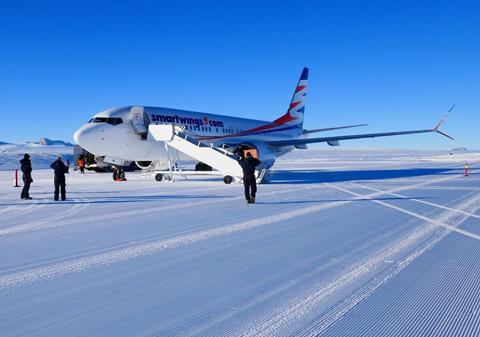 It adds that the crew – comprising three experienced captains – received continuous weather updates and reports on the airport's availability via datalink and satellite phone communications.
"The preparations took many months, and the flight and landing went smoothly," says Smartwings captain and flight director Tomas Nevole. Arctic survival training formed part of the preparatory work.
Approval had to be obtained from Czech authorities to operate to Troll, as it is an isolated airfield with no alternates.
Smartwings says the aircraft was parked in Antarctica for 2h before taking off for the return journey.