South African carriers are urging the government to stress-test the early restoration of domestic air services, to quicken the introduction of an expanded route network.
Operators have been forced to suspend services after South Africa entered a national lockdown on 26 March.
The government's coronavirus response plan entered a new phase on 1 June, allowing easing of restrictions on air transport operations and the opening of trunk routes connecting Johannesburg, Cape Town and Durban.
But the Airlines Association of Southern Africa, while viewing the measure as "positive", says further routes need to be phased in if airlines are to make a "meaningful contribution" to recovery.
This means the new air transport systems in place must be given "appropriate capacity" in order for them to be "stress-tested as quickly and rigorously as possible", says chief executive Chris Zweigenthal.
"Only then will the reconnection of other inland and coastal cities be phased in," he adds. "The sooner this occurs, the better as survival of airlines and their ability to support the repair of the local and national economies are entirely dependent on this."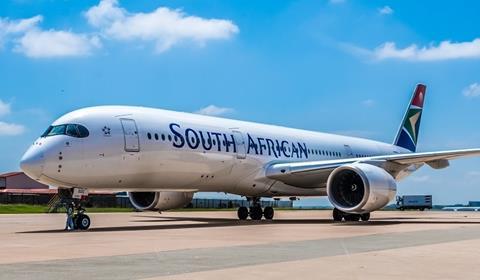 Despite the flight restrictions being eased, carriers still need a lead time to obtain approval for their new safety procedures, slots, and schedules.
Operators will not be able to conduct regional or long-haul international services until governmental agreements are in place to allow them.
"The start-up phase will be difficult for all carriers as it involves significant financial outlays before any revenues have been generated," says Zweigenthal.
Airlines Association of Southern Africa is pressing for financial aid to the sector, from capital injections and loan guarantees, to tax relief and fee waivers, in order to help carriers rebuild their operations.
"Without an efficient air transport system, South Africa's economic recovery will be prolonged and painful," says Zweigenthal.
Several South African airlines are in a state of disarray, with flag-carrier South African Airways the subject of a drawn-out restructuring effort, SA Express in provisional liquidation, and Comair undergoing a business rescue process.