South Africa's government has welcomed a judicial decision to place low-cost carrier Mango under business rescue.
The airline – a division of South African Airways – had been under financial pressure and, towards the end of July, was forced to suspend services.
South Africa's department of public enterprises says a high court judgement puts Mango into business rescue with an effective date of 28 July.
It says the SAA and Mango boards opted for the rescue as a result of "financial and operational challenges" faced by the carrier.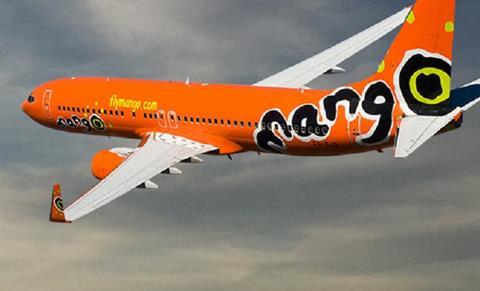 "The decision is good news for all stakeholders in the aviation industry as it brings certainty to the process that will unfold to restructure Mango," the department adds.
It states that the measure will ensure South Africa will have a "sustainable aviation asset" to serve the low-cost market.
Restructuring of other SAA businesses – specifically the maintenance arm SAA Technical and catering division Air Chefs – will mean that the revamped SAA will be supported by "fit for purpose" subsidiaries, it adds.
SAA is undergoing a sale process through which a majority share would be transferred to a consortium, Takatso, but unions and politicians have expressed concerns that the government views Mango and the other subsidiaries as hurdles to completing the partnership agreement.