South African start-up Suid Cargo Airlines is intending to commence services in the second quarter of this year, initially leasing a Boeing 727-200 freighter.
The airline says it will lease the trijet from Kenyan company Astral Aviation, but also use other freighters in its fleet – including a Boeing 757, 767 and 747-400 – for charter.
But it aims to modernise its operation from next year, indicating plans to acquire converted Boeing 737-800 or Airbus A320 freighters and possibly Embraer 190s in 2025.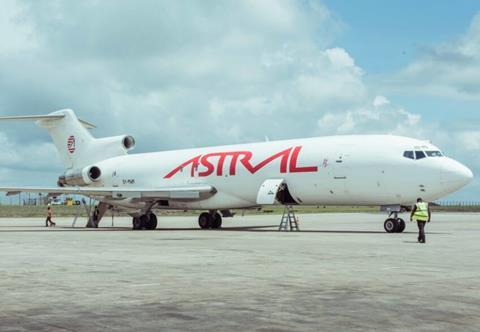 Suid Cargo Airlines will operate non-scheduled services from Johannesburg airport, says chief executive Thomas Honiball, and enter partnerships with freight forwarders, e-commerce firms, and other carriers.
It has ambitions to commence domestic scheduled services next year.
Honiball disclosed details of the planned operation at the Air Cargo Africa event in Johannesburg.
Commercial director Kevin Moodley adds that the airline intends to manage exports from South Africa and access 20 African destinations.
Suid Cargo Airlines will also introduce a sea-air link to connect landlocked regions on the continent with the ports at Cape Town and Durban.
Astral Aviation's fleet includes a variety of aircraft types, including the McDonnell Douglas DC-9-30. Chief Sanjeev Gadhia says the company's fleet support to the new carrier will enable it to "scale its operations" to several locations in Africa and beyond.