Almost one year after the Boeing 737 Max was grounded, Southwest Airlines chief Gary Kelly has alluded to a fringe financial benefit from the Max situation as the budget carrier braces for the impact of the coronavirus outbreak.
Kelly says the severity of the decline has been "breathtaking", with the airline experiencing an "alarming" drop in bookings at the end of February and estimating a $200-300 million cut to revenues for March alone.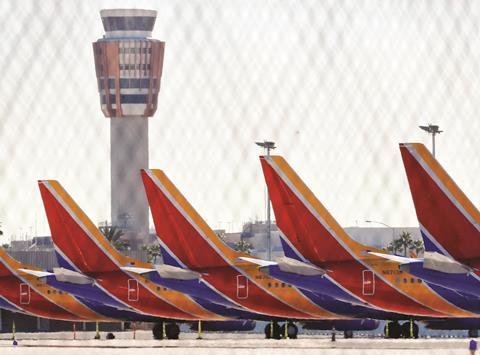 But he points out, in a statement to staff, that the airline is in a "strong position", with "plenty of cash" and "modest debt".
Southwest also has "affordable" capital commitments, Kelly adds, "especially considering we are not taking delivery of any new airplanes at the moment".
The carrier has orders for over 250 737 Max jets and 34 already in its fleet but grounded since 13 March last year.
If the grounding is lifted in June-July, says Kelly, Southwest should start taking new aircraft in the third quarter – but will have to start paying for the deliveries.
"It is too early to say what we do if the demand isn't there to grow," he states.
Kelly says the airline will consider "all options" – including reducing scheduled flying in the short term – and he "can't promise" that the carrier will not need to ground aircraft and furlough employees.
But he states: "I can promise you it will be the last thing we do, not the first."
Fuel prices have "dropped precipitously", says Kelly, which will assist the carrier's already-low operating costs.
"That is an enormous help, as long as prices don't snap right back up," he adds, putting the potential savings at $1 billion.
Southwest intends to "aggressively attack" the situation, and Kelly says he is taking a 10% pay cut on a salary unchanged since 2017.
He stresses that Southwest is "not seeking any further pay concessions", although several union contract negotiations are in progress and offers cannot be left on the table "indefinitely". The company will look to defer spending on non-essential items, freeze hiring on non-frontline positions, and look at other measures to maintain corporate health.