Spanish airlines Iberia and Vueling generated the greatest reductions in operating loss over IAG's first half, which the group attributes to fewer travel restrictions and stronger demand in the Latin American and Spanish markets.
Iberia cut its first-half operating loss by 62% to €330 million ($392 million) with Vueling managing to halve its loss to €195 million.
IAG chief executive Luis Gallego says the two airlines were also the "best performers" in the second quarter.
"Our focus is on ensuring our operational readiness, so we have the flexibility to capitalise on an environment where there's evidence of widespread pent-up demand when travel restrictions are lifted," he says.
"This is reflected in Iberia's and Vueling's results."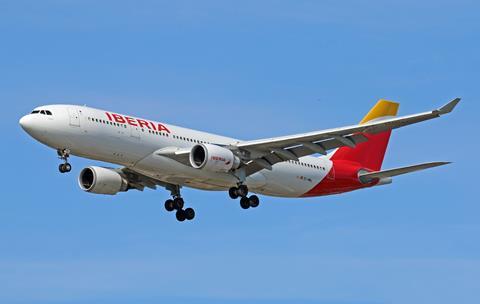 But British Airways – whose financial performance has the largest influence on IAG – trailed with a 46% reduction to €1.3 billion in the first half, followed by Aer Lingus which cut operating losses by 39% to €192 million.
IAG's overall operating loss for the six months to 30 June reached €2.03 billion, about half the restated interim figure of €4.05 billion from 2020.
Over the second quarter the group generated an operating loss of €967, rising to €1.04 billion before exceptional items.
British Airways capacity was constrained by UK government restrictions, including the use of a 'traffic-light' travel system featuring only a few accessible destinations. IAG says this "severely limited" recovery in capacity. The airline was also affected by restrictions by other governments on UK travellers.
Iberia was able to concentrate on Latin American long-haul operations, including services to Colombia and Ecuador, while short-haul routes benefited from "high levels" of transfer traffic, says IAG.
Vueling was lifted by an easing of Spanish government restrictions in May, with domestic routes to the Canary Islands and Balearics performing well, but IAG says Aer Lingus struggled with low load factors of about 20% owing to the Irish government's maintaining "stringent" limitations.
IAG's overall passenger capacity remained heavily suppressed during the quarter, at just under 22% of the pre-pandemic level for 2019.
It aims to reach a figure of 45% for the third quarter but stresses that this is "uncertain" and "subject to ongoing review".
"We know that recovery will be uneven, but we're ready to take advantage of a surge in air travel demand in line with increasing vaccination rates," says Gallego.
"All our airlines continue to take significant actions to preserve their strength through the current pandemic and to position them for recovery."
IAG operated 1,371 cargo-only flights during the second quarter, slightly more than the 1,306 flown in the first.