Great Dane Airlines' failure, just over two years since it commenced services, is hardly a surprise given the destruction wrought on the air transport industry for much of that time.
The carrier started flights in June 2019 and had only been operating for nine months when the pandemic began severely affecting European air services.
Great Dane's full-year financial statements show that the company made a pre-tax loss of DKr56.5 million ($8.7 million) for 2020 – a year in which it had hoped to start showing profits – and was in a negative equity position.
This followed losses of almost DKr30 million by the end of 2019.
Great Dane stated in its full-year accounts that its prepared budget for 2021 contained assumptions over its expected activity, including load factors on scheduled flights, charter services, and developments in variable costs.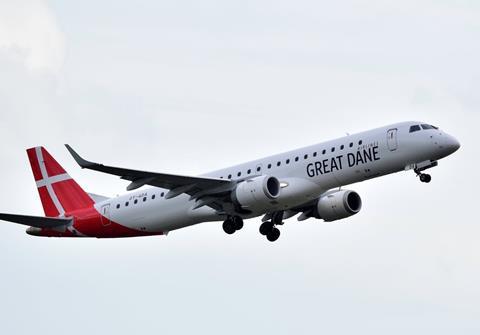 The airline acknowledged that there was "uncertainty" over the likelihood of achieving these activity levels, given that it was a newly-established company and was having to cope with the impact of the pandemic.
But its management also believed the company could continue operating with its established credit facilities, pointing out that it had obtained a commitment from its primary lessor SEBC Aviation Leasing to support liquidity through flexible deadlines for outstanding payments.
SEBC is listed in the Danish corporate registry as the main shareholder of Great Dane Airlines, with at least a 90% stake.
Great Dane says it received DKr28.8 million from Danish state support packages in relation to the impact of the pandemic.
However, the effects of the crisis proved too damaging for the Aalborg-based carrier, which had been using a small fleet of Embraer 195s, aiming to build a business based largely on charter services, supplemented by a number of scheduled routes. It employed around 80 personnel.
Great Dane says it "struggled" through the months of the pandemic but has been forced to file for bankruptcy, just as signs of recovery are emerging in the sector.
The pandemic had previously claimed Danish charter carrier Jet Time, which filed for bankruptcy in mid-2020, but was effectively resurrected under the name Jettime.
Denmark's air transport market is dominated by Scandinavian operator SAS and secondary airlines have sometimes struggled to find a niche.
Copenhagen-based Sterling Airlines, which was merged with struggling Danish operator Maersk Air in 2005, fell victim to the economic crisis of 2008. Danish regional operator Cimber Air's ambitious attempt to take over and revive Sterling ultimately fell apart three years later.
Budget airline Transavia, which set up a Danish division to capitalise on Sterling's collapse, could not sustain the operation and withdrew.
Cimber re-emerged from the failed Sterling venture as a regional operator for SAS before being taken over by the carrier and subsequently sold to Ireland's CityJet.