UK regulators have granted an air operator's certificate to a start-up freight carrier, One Air, which is set to become the only airline in the country with a Boeing 747 fleet.
One Air is dry-leasing an initial 747-400 converted freighter and aims to take a second by the end of this year. The company is also intending to evaluate other aircraft types.
It expects to focus on flights between the UK and European, Middle Eastern and Asian destinations but subsequently expand to Chinese and US services.
The UK Civil Aviation Authority confirms it has granted One Air an AOC, enabling it to commence operations.
One Air's first aircraft is a Pratt & Whitney PW4000-powered jet (G-UNET) originally delivered to Air Canada in 1991, and used by companies including Air China Cargo, Honeywell International, Turkey's ACT Air and Moldova's Aerotranscargo.
"The important role freighter services played in supporting the UK economy and the public throughout the pandemic demonstrated the level of demand which exists for a British cargo airline," says One Air chief executive – and majority owner – Paul Bennett.
He says the carrier has sufficient financial resources to "grow in line with the level of demand we see".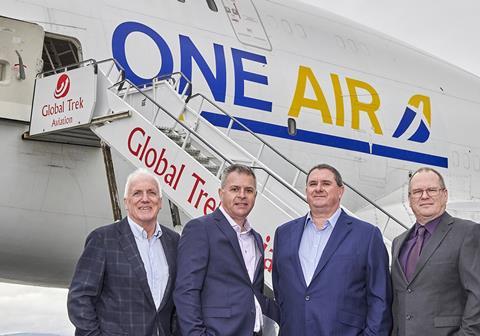 Bennett is linked with cargo chartering specialist Air One Aviation, which also has a pilot-training division. The company originally took a 49% share in One Air when the carrier was established in 2021.
"[We] have the opportunity to leverage long-standing business relationships with freight forwarders, logistics providers, and charter brokers serving the UK market," says Bennett.
The airline has named Chris Hope, formerly with EasyJet and Flybe, as chief operating officer, and appointed Jon Hartley as chief financial officer. It has also identified David Tattersall as chief technical officer.
"Over the past two years, the cargo market in the UK has clearly shown resilience in the face of unprecedented disruption to the aviation industry," says Hope.
Located close to London Heathrow, One Air undertook a proving flight in July last year and engaged in the process to obtain an operating licence. It says it has workforce of 90 supporting the airline's operations, maintenance, and training, and some 40 pilots.
UK-based CargoLogicAir had used a 747 freighter fleet before the airline entered administration last year.