Start-up premium leisure airline Beond has conducted its first commercial service, with a flight between Munich and the Maldives.
The airline operated the service – with the aircraft flying via Dubai – on 15-16 November.
Beond displayed its initial aircraft, an Airbus A319 painted in a distinctive dark livery, at the Dubai air show.
The carrier says it will operate twice-weekly on the Munich-Maldives route. Its A319 is configured with 44 premium seats, but the airline has not stated how many passengers were on board the initial service.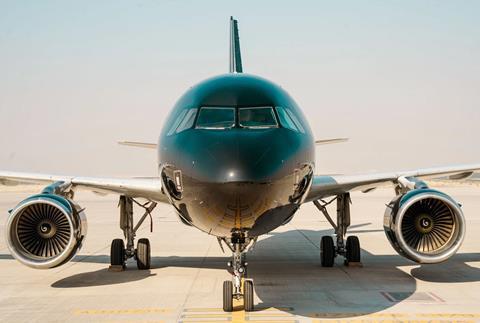 "With our first revenue flight, Beond has arrived," says chief executive Tero Taskila. "The flight…represents the starting line of our vision to build Beond as a luxury travel brand."
The carrier is aiming to begin flights from Zurich and Riyadh this week, and expand with services from Dubai and Milan from spring next year.
"Beond seeks to redefine the skies, where luxury, comfort, and exclusivity are not just ideals, but realities experienced by every traveller," says Taskila.