SAS is estimating the cost of the pilots' strike at SKr1-1.3 billion ($94-123 million) over the first 10 days, and warns that it could be forced to resort to selling assets and cutting back its operations.
The company – which has filed for US Chapter 11 protection – has been in advanced discussions with potential lenders for SKr7 billion in debtor-in-possession financing to fund its 'SAS Forward' restructuring initiative.
But it claims the industrial action is threatening the company's ability to raise this crucial funding.
"The strike is putting the success of the Chapter 11 process and, ultimately, the survival of the company at stake," insists chief executive Anko van der Werff.
SAS chief financial officer Erno Hilden adds that the pilots' industrial action "amplifies the already-dire situation".
While SAS has sufficient liquidity to meet near-term business obligations, it says its financial position has been "severely impacted" by the strike which commenced on 4 July.
It warns that its cash reserves – which will dwindle as the peak summer season passes – will "erode very quickly" if the strike is prolonged.
Pilot unions initiated industrial action in protest against measures to change cockpit crews' conditions as part of a restructuring effort to bring down SAS's cost base.
SAS says the strike has triggered more than 2,500 flight cancellations and affected more than 270,000 passengers.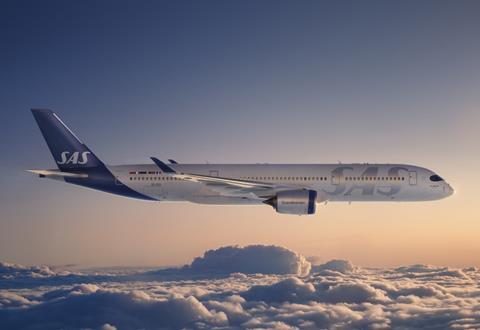 While the immediate operational disruption is a concern for the carrier, it stresses the risk of the strike's causing longer-term consequences.
SAS says it needs to prove to potential lenders that it can achieve SKr7.5 billion in annual cost savings under 'SAS Forward', in order to secure the debtor-in-possession funding that will support the re-organisation.
"Continuance of the pilot strike may jeopardise the company's access to [debtor-in-possession] financing," it states.
"In such an event, the company will need to consider selling valuable strategic assets under duress while also radically downsizing SAS's operations and fleet."
SAS also warns that the effects of such measures could be virtually irreversible.
"Once those actions are taken, it will be difficult for SAS to rebuild back the size and breadth of its current network and services," it says.
SAS recently formally notified mediators that it wanted to resume discussions with cockpit crew representatives in a bid to end the strike, adding that it recognises the need for "concessions from both parties".
But Swedish pilot union Svensk Pilotforening says it believes the management is "heading in the wrong direction", and wants "proof" that the carrier is willing to reach an agreement.
It defends the timing of the strike – just as the air transport recovery is gaining traction – by arguing that it has negotiated with SAS for several months, and claims a number of pilots will lose their jobs by autumn if they do not take action.
Pilots are concerned that SAS is not rehiring crews shed during the pandemic, but is instead hiring lower-cost personnel through staffing agencies to rebuild its operation.
"We are fighting for the right to keep our jobs," the union says. "If SAS is allowed to continue with its plans, the jobs will be moved to the new staffing companies and we will be unemployed."
It denies that the strike is about wanting better conditions, claiming that pilot unions have offered "significant" concessions to the carrier and stating that pilots are seeking to defend broader working principles because similar measures being undertaken by SAS could be applied in other Swedish companies.