Norway's government has signalled that it is prepared to offer financial support to budget carrier Norwegian, to assist with the restructuring airline's recovery, but has laid out a number of conditions.
The government is stressing that it has no intention of becoming an owner of the carrier.
Trade minister Iselin Nybo says the carrier's latest restructuring plan "appears more robust" than a previous version, presented last year, which the government refused to support.
Norwegian's new business plan involves "strong" measures to deal with the company's debt, says Nybo, and the introduction of NKr4-5 billion ($470-590 million) in new capital.
"This is why we're positive about contributing," she adds, indicating that the government is prepared to offer a hybrid loan.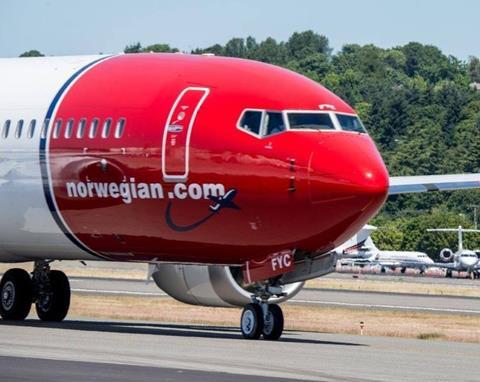 But Nybo cautions that Norwegian is undergoing a "demanding" process and that, among the conditions, the airline will need to bring in long-term strategic investors to provide much of the new capital.
Participation in a hybrid loan will be on market terms, and the company must secure approval for its restructuring effort. Any government participation will also require parliamentary support.
"We believe a reconstructed Norwegian can be an important player in Norwegian aviation in the future," says transport minister Knut Arild Hareide.
Norwegian says the contribution from the government "significantly increases" the airline's chances of raising new capital and pulling through the air transport crisis.
The carrier has taken a number of steps to restructure its operation, notably opting to discontinue its long-haul Boeing 787 activity.
"We still have a lot of work ahead of us, but a participation from the government underscores that we are heading in the right direction," says chief executive Jacob Schram.
Norwegian remains under Irish examinership and presented a new business plan, focused on its European network, on 14 January. The plan envisions the carrier's operating a fleet of 50 aircraft this year, rising to 70 by 2022, and a reduction in debt to NKr20 billion.
"With a new business plan, and a participation from the government, we are confident we can attract investors and get through the examinership and reconstruction process," says Schram.