Braathens Regional Airlines is to conduct a pioneering flight test at the beginning of next year, aiming to fly an ATR turboprop with a 100% blend of sustainable aviation fuel.
Speaking during a briefing on 16 September, recently-appointed BRA chief executive Ulrika Matsgard said the carrier was "starting the process" of transforming the business to 100%-sustainable fuel.
While the precise time and location of the test flight have yet to be disclosed, one engine on the aircraft will be powered by a 100% blend and the other by a 50% blend.
"The aviation sector needs a forerunner," says Matsgard. "We believe we can be the one."
BRA operates a fleet of ATR 72-600s. Matsgard believes a flight powered by wholly-sustainable fuel in both engines could reduce emissions by over 80%, and anticipates that the test flight will achieve a reduction figure of 64%.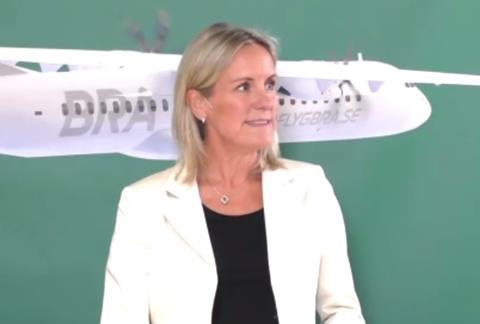 Alluding to the Swedish term 'flygskam' – which literally translates as 'flight shame' and refers to the social movement against the harmful environmental effects of aviation – Matsgard says that the airline's efforts means passengers will be able to fly "without having shame".
BRA collaborated to operate the first biofuel-powered ATR flight in 2017, with one of its ATR 72-600s operating from Stockholm Bromma to Umea with a 45% blend of fuel based on used cooking oil.
"We want to do it a second time, but do it better," said ATR chief Stefan Bortoli during the briefing, stating that the company wants to pursue the "more ambitious goal" of exceeding the 80% mark in emission reductions.
BRA chair Per Braathen says sustainability should be treated "as a friend, not an enemy", adding: "We should never let a crisis go to waste."
There is a need to be "honest" about such issues as the higher cost of sustainable fuel, he says, and the "hurdles" faced by the industry in shifting to its use – but insisting that global issues can benefit from regional solutions.
"Even though we're a small airline, we can make a difference," he says.
Braathen insists analysis of its customer base indicates that "all are willing to pay" in regards to the cost of switching, and he is urging the Swedish government to take "much more action" to advance progress: "The government has to step up and do something, not just talk."
Renewable aviation fuel specialist Neste's vice-president for Europe, Jonathan Wood, says that working with different aircraft manufacturers to gather data is "key to kicking off" the process of certifying 100% sustainable aviation fuel usage.
He stresses that such fuels have other benefits beyond decarbonisation, including reductions in particulate emissions and even the potential for slightly higher performance efficiency.
Neste produces about 100,000t of sustainable aviation fuel per year, says Wood, but from 2023 it will be able to satisfy Swedish demand twice-over.