Swedish regional carrier Vastflyg is claiming to be the first airline to use sustainable aviation fuel exclusively on its flights.
Vastflyg will use a mixture of Neste MY renewable fuel on all services including its scheduled routes from Trollhattan airport to Stockholm Bromma and Visby.
Biofuel can contribute a maximum proportion of 50% to the fuel blend. Neste says the blend supplied to Trollhattan will be around 30-40%.
"By using a high blend of sustainable aviation fuel, we will immediately reduce our greenhouse-gas emissions for all flights," says Vastflyg chief executive Anna Petre.
"We will also use the biofuel mixture for our charter flights, which makes Vastflyg a better choice for climate-conscious travellers."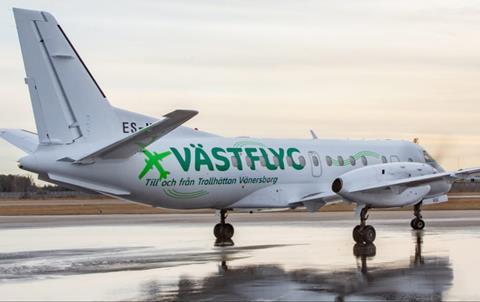 Trollhattan-Vanersborg airport will also be offering only sustainable fuel blends to operators from mid-June, as part of the switch.
"Small steps can lead to big changes and that is exactly what we think this investment shows," says the airport's chief, Anna Rahnangen.
The Neste MY renewable fuel is wholly produced from such sources as waste cooking oil and animal fat.
Neste's renewable aviation vice-president for Europe, Alexander Kueper, describes the decisions taken by the airline and airport as "a big and brave step".
"It shows their commitment to reduce greenhouse-gas emissions from air travel and is a role model for other airports and airlines worldwide," he adds.
Vastflyg uses Saab 340 regional turboprop aircraft, operated on its behalf by Estonian carrier NyxAir.