Lufthansa Group carrier Austrian Airlines has agreed to sell three of its Boeing 767-300ERs to a US company, Texas-based MonoCoque Diversified Interests.
Austrian says the first of the 767s will be transferred at the beginning of March with a second to be handed over in May.
The carrier had disclosed last year that it intended to halve its fleet of 767-300ERs by removing three old airframes – OE-LAT, OE-LAW and OE-LAX – manufactured in 1991-92.
Cirium fleets data lists one of these, OE-LAT, as being in storage and the carrier says it will be the first to depart, heading for Arizona's Pinal Airpark, with OE-LAX next to go.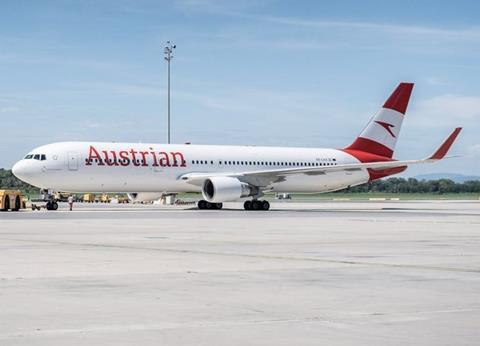 "Being able to sell all three [aircraft] to one buyer is very gratifying and a big step for our fleet transition", says Austrian chief Alexis von Hoensbroech.
Austrian had opted to keep three newer 767s, built in 1998-2000. All six 767s are fitted with Pratt & Whitney PW4000 engines.
Terms of the purchase agreement with MDI and the price of the aircraft have not been disclosed. MDI manager Mary Alice Keyes says the company is "excited to continue the growth of its passenger and cargo aviation portfolio".
MDI is an aviation investment fund and maintenance supplier specialising in acquiring older airframes which have remaining life as passenger aircraft and the potential to be shifted into its engine or cargo businesses. The company's activities have included acquiring air taxi operators from RavnAir Group during its bankruptcy.
Austrian says the 767 removal is part of a restructuring involving removal of a further 25 aircraft, comprising 18 Bombardier turboprops – of which 10 have already gone – plus seven Airbus A319s. The carrier intends to have a fleet of about 60 aircraft by the beginning of 2022.