French aerospace firm Thales has reconfirmed that it will supply the in-flight entertainment system for Emirates' Boeing 777X fleet.
Thales will provide the Dubai-based airline with its Avant Up equipment from 2025.
Emirates previously had 115 777Xs on order but has newly-unveiled an enhanced agreement covering 90 additional 777Xs – a mix of 777-9s and 777-8s.
The two companies had originally unveiled an agreement in 2016 to supply IFE for the first 50 Emirates 777Xs, at a time when the carrier had signed for 150 of the jets.
Emirates last year chose the Avant Up system for the carrier's Airbus A350-900s.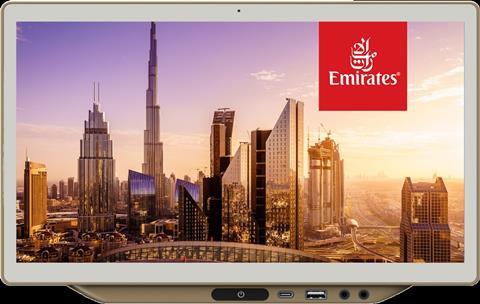 Thales says the Avant Up features Optic 4K "smart displays" including high-definition screens, as well as its 'Pulse' power-management system offering high-speed charging at each seat.
Passengers' personal electronic devices can be synchronised to the screen.
Thales adds that the system will have user interfaces enabling visually-impaired passengers to have an "immersive experience".
"We will bring extraordinary new features and innovations to elevate the passenger experience," insists executive vice-president of avionics Yannick Assouad.