Leisure operator TUI Group is to undertake a capital raise amounting to €1.8 billion ($1.93 billion), in order to repay state aid granted during the pandemic.
It plans to offer new stock to shareholders and use the proceeds to repay aid from the German economic stabilisation fund and cut back the credit line from bank KfW.
TUI Group says the measure has been cleared by its supervisory board.
It will offer nearly 329 million new shares to subscribers, with eight shares granted for every three currently held.
TUI says the price is €5.55 and the subscription window opens on 28 March. It will run to 17 April.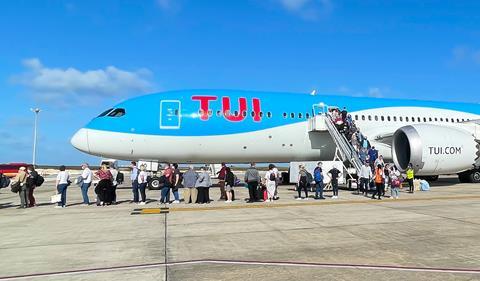 "Full repayment of the [pandemic] state aid was our declared goal," says group chief Sebastian Ebel.
"With the capital increase now approved, we are taking the final step with the [stabilisation fund] aid and fulfilling our commitment."
He says TUI will return to a "good balance sheet structure", adding: "We are doing everything we can to further improve the group's profitability."
The stabilisation fund will receive about €750 million, taking into account its original assistance, plus warrants and interest.
TUI also drew part of its KfW credit line over the winter and the leisure company will repay €440 million.
Current drawings of nearly €1.44 billion will be cut to about €870 million with the remainder of the proceeds.
TUI adds that it plans to reduce "significantly" the KfW credit line of €2.1 billion.
If the capital increase is successful, says the company, net debt will fall to €2.4 billion from the figure of €3.4 billion at the end of last year.