German-Turkish leisure carrier SunExpress is shutting its German division as part of a revamp of its operations which includes concentrating on its core business.
Although SunExpress has gradually resumed flights since 1 June, restoring both domestic and international services, it says the coronavirus crisis "hit hard" during April and May.
Shareholders of the company – jointly owned by Lufthansa and Turkish Airlines – have opted to cease operations with the SunExpress Germany arm, and carry out an "orderly liquidation" of the carrier, which originally started services in mid-2011.
The decision has been made just two months into the tenure of new chief executive Max Kownatzki, who took over from Jens Bischof in April.
SunExpress Germany is an Airbus A330 and Boeing 737 operator, and had been due to receive the 737 Max. The division accounts for 20 of the 69 aircraft in the SunExpress fleet.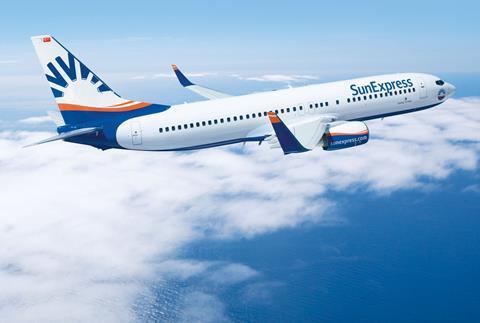 Last year SunExpress's Turkish and German operations generated consolidated revenues of $1.57 billion but a profit of just $62 million.
Over the first quarter, to 31 March 2020, the airline made a consolidated loss of $49 million on revenues of $179 million.
Some 1,200 employees will be affected by the decision. The company states that the closure of the German business is "bitter" even if it is "strategically correct" and was taken after a "comprehensive and intensive assessment".
"This represents an important step into the future in order to keep SunExpress's market position during the crisis and emerge stronger," it adds.
Discussions with employees and their representatives will take place over the next few weeks.
SunExpress's Turkish operation, as well as airline partners including Eurowings, will pick up passengers from cancelled SunExpress Germany flights. The company will focus on its activities at the Turkish resorts of Antalya and Izmir.
"With a concentrated route network, a consolidated fleet and combined flight operations, we will ensure the competitiveness and future viability of the airline," says Kownatzki.