Nearly two dozen Airbus single-aisle jets operated by troubled Indian carrier Go First have become the subject of de-registration requests by lessors.
Twenty-three aircraft have been listed by the Indian civil aviation regulator DGCA as having de-registration requests submitted as of 4 May.
These requests cover 19 leased A320neo and four leased A320 twinjets.
Under the Cape Town Convention, the aircraft owners can request de-registration and export – known as 'IDERA' – in the event of default.
The requests listed by the DGCA have been submitted by nine leasing entities, among them GY Aviation, SMBC, and BOC Aviation.
Go First has suspended operations for several days.
It has expressed frustration over the reliability of Pratt & Whitney engines on the A320neos – the two sides are engaged in a legal tangle on the matter.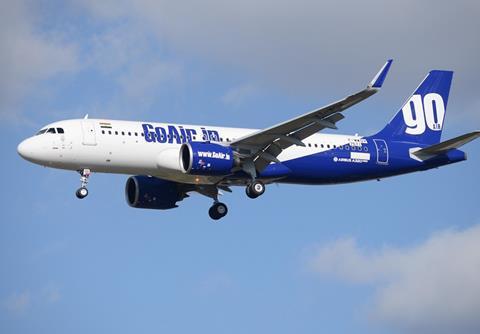 Go First has 25 A320neos in storage, about half the carrier's overall aircraft fleet. The carrier has 144 A320neos on direct order with Airbus, of which 56 have been delivered.
Airbus chief executive Guillaume Faury, speaking during a first-quarter briefing on 3 May, acknowledged the pressure on engine manufacturers – during a prolonged supply-chain recovery – to address the demands of airframers and carriers, especially given that engine time-on-wing for certain operations was proving "lower than expected".
But he also stressed that in-service problems were "mainly a situation to be managed between the engine manufacturers and the airline", because they are the contracting parties.
"Obviously as the aircraft manufacturer it's a situation we're monitoring very closely, and co-ordinating a number of situations between our customers and Pratt & Whitney to minimise the impact," he added.