UK cargo start-up One Air is preparing to introduce a second Boeing 747 freighter, having conducted its inaugural long-haul service.
The carrier flew its initial 747-400SF from London Stansted to Jinan, in Shandong province, on 22 July before flying to London Heathrow – operating the return flight via Almaty in Kazakhstan.
One Air says it was carrying out a "full charter" with a 100t payload for its customer, Shandong Glory.
"As well as ad hoc charter flights, we are now commencing a regular flying programme from Asia-Pacific to Europe with two 747F flights per week," says chief operating officer Chris Hope.
He says the airline is working to add a second 747 freighter to the fleet in the early part of the fourth quarter.
"This is a landmark day for One Air and all our team and partners in the UK," he adds.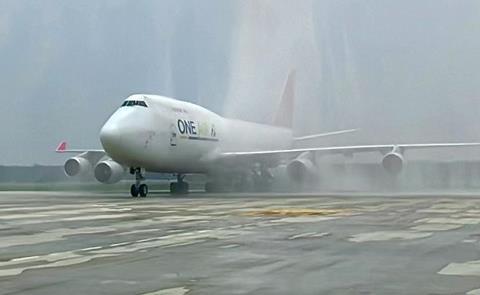 The carrier's initial 747 (G-UNET) had been flying a series of European sectors – such as Liege, Chateauroux and Ostend – before operating the Chinese customer flight.
"It is pleasing to see a new British cargo airline take to the air and we wish One Air great success as it works to establish its place in the global market," says Shandong Glory general manager Jacky Wu.
One Air chief Paul Bennett says the first customer flight marks the beginning of a strategic development plan to establish a reputation in "prime air cargo markets around the world".