Liquidators have been appointed to wind up UK operator Jota Aviation, based at London Southend, which had formerly conducted specialist passenger charter and freight services.
The UK Civil Aviation Authority listed Jota Aviation as having a valid air operator's certificate in a May update, with approvals for British Aerospace 146s and BAE Systems Avro RJ regional jets.
But the company, part of the Jota Group, has passed a resolution dated 19 May stating that it "cannot, by reason of its liabilities, continue its business".
It adds that it is supporting a voluntary winding-up of the business.
Jota Aviation creditors have named David Pike and Joshua Dwyer as joint liquidators of the company, tasked with dissolving it and distributing the assets.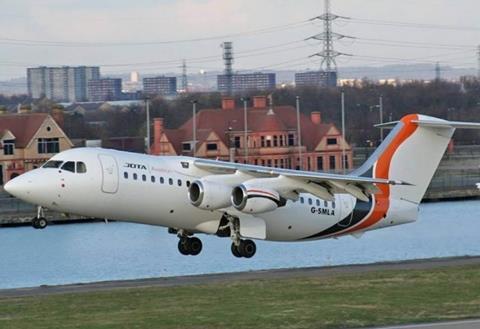 The carrier had been struggling under the effects of the pandemic and, in July last year, the company's auditor had mentioned the "significant detrimental impact" of the situation since the end of March 2020.
It had already been loss-making, turning in deficits of over £3 million for the pre-crisis years 2018-19 and 2019-20, and net liabilities at the end of March 2020 had doubled to over £5 million.
Jota had pointed out that the wet-lease business in which it had been active was suffering from oversupply, with rising crew costs and reduced yields, and abandoned the sector in favour of sole-use charter.
It had also been badly affected by the UK's 'Brexit' withdrawal from the European Union, partly blaming its status as a UK airline for its being unable to secure freight contracts.
The company stated that Brexit had caused "huge disruption" and "drained" management time as it attempted to prepare for multiple scenarios, and related factors had made the company "uncompetitive" in the European charter market.
The airline started to feel the effects of the pandemic in the last quarter of 2019-20 as a halt to Chinese automotive and agricultural component production and export led to a sharp decline in ad hoc cargo operations.
This was followed by the crisis in European air transport services as the pandemic progressed, forcing the airline to adapt to higher freight activity as passenger operations dried up.
Jota had been aiming to "future-proof" its business by rebranding as a leisure charter airline and moving into offering narrowbody capacity to UK independent tour operators for the summer 2022 season, claiming that there was "huge pent-up demand for travel" as well as "appetite" from private equity to invest in an established UK carrier.