UK competition regulators have dropped their probe into the IAG-Air Europa merger, after the two sides terminated the tie-up in the form originally envisioned.
IAG had proposed to acquire the whole of Spanish carrier Air Europa's share capital from parent Globalia, an agreement which was subsequently amended a number of times last year.
The UK Competition and Markets Authority had opened an inquiry in mid-November 2021, inviting comments on whether the merger would reduce competition in the UK sector.
But within a month IAG and Globalia opted to abandon the original agreement and its subsequent revisions in full, and this has prompted the UK authority to halt its investigation.
"Accordingly, on the basis of the information available to it, the [Competition and Markets Authority] does not believe that it is, or may be, the case that arrangements are in progress or in contemplation which, if carried into effect, will result in the creation of a relevant merger situation," it states.
While the authority would have had to decide whether to submit the deal to a more in-depth investigation by 19 January, it states that, as a result of the situation, it "does not…have a duty" to refer the merger under UK enterprise legislation.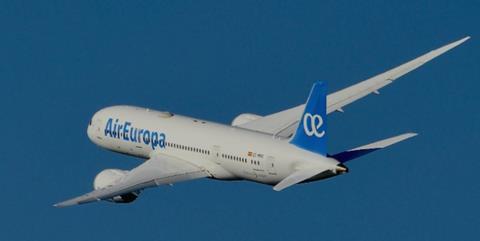 IAG and Globalia had agreed, at the time of the termination, to discuss possible alternatives to the acquisition before the end of January this year. Neither side has disclosed details of these exploratory talks.
Even before the UK probe, the original merger proposal – heavily revised as a result of the air transport crisis – had run into problems with European competition regulators, particularly over the impact on Spanish services.
IAG already owns Spanish flag-carrier Iberia and budget airline Vueling, and the European Commission had provisionally found that the Air Europa deal would have had negative impacts on Spanish domestic, short-haul and long-haul routes.
While IAG had offered remedies, these had been viewed by the Commission as insufficient to address its concerns.